Williams-Garcia, Rita. P.S. Be Eleven. New York: Harper Collins, 2013. 9780061938627. 276p. $16.99. Gr. 5+
One of my 4 best books of 2013! This 2013 winner of Coretta Scott King Award is the follow-up to Williams-Garcia's multiple award-winning One Crazy Summer. We pick up where we left off in 1968 with sisters Delphine, Vonetta and Fern flying back from their One Crazy Summer visiting their mother Cecile, the poet and Black Panther sympathizer, in Oakland.  Returning home to Pa and Big Mama, their imposing Southern grandma, in Bed-Stuy Brooklyn, they have to assimilate their new knowledge of Black Power and social revolution with the white gloves and "don't create a grand Negro spectacle" admonishments of their real world. The title comes from the postscript of letters Delphine, about to turn 12, writes to her wayward, troubled mother asking for answers to all the confusing aspects of her world. Cecile's answers are oblique and vague and in the end she is scolding her oldest daughter to remain a girl a little longer.  But as we learned in the first book, Cecile's inability to care for her children forced Delphine to be a responsible adult caregiver from a very young age, and  therein lies this book's heartbreaking dilemma. Mix in an uncle who returns from Vietnam with damage you can't see from the outside, typical 6th grade school troubles, and tons of laughs, and you have a multi-layered novel that you won't be able to put down. Many of the life lessons in this book are going to go over the heads of the average sixth grade reader so I'd encourage adults to read this with their kids, and I'd pitch this book to readers all through high school. It is amazingly written and a beautiful story with no easy answers.
Historic Fiction, Vietnam, 1960s Cultural Revolution       Kathie Jackson, Plymouth Meeting Friends School                                                                                                                      
Shurtliff, Liesl. Rump, The True Story of Rumpelstiltskin. New York: Alfred A. Knopf, 2013. 978-0-307-97793-9. 264p. $16.99. Gr.3-6.
What do you do when your name dictates everything everyone thinks about you, when it dictates your destiny? Rump, wants
to change who he is, what people think of him and his path in life. Throughout this book the humor, adventure and story line, is
perfect for reader age. Liesl Shurtliff takes an unlikeable fairy tale character and has the reader routing for him. The chapter length and the text size are engaging and the language is perfect for readers pushing to the more advanced chapter book level. Rump not only tells the story of Rumpelstilskin in a different light, it also encourages self-discovery and insightful reflection mixed with memorable fairy tale characters. I highly recommend this book.
Fiction/Fractured Fairytales/Humor    Denise Naumann, Eisenhower Elementary
Vawter, Vince.  Paperboy.  New York: Delacorate Press,  2013.978-0-385-744-3. 225p. $16.99 Gr. 6-9.
Starting your first job is an exciting experience, even if it's only temporary.  Set in the 1950s  in Memphis, Tennessee, our hero takes over his best friend's paper route for the summer.  His life long struggle with a stuttering problem complicates matters when he has to meet new people and talk to them.  The new route is filled with a number of unusual characters with their own personal problems. As you can probably guess, the novel is in many aspects autobiographical.  The author is an expert at understanding the world of a stutterer. Stuttering is an unseen disability that affects millions of people on a daily basis.
Fiction         Martha Trzepacz   Strath Haven Middle School
Grabenstein, Chris. Escape from Mr. Lemoncello's Library. New York: Random House Children's Books, 2013. 978-0-375-87089-7. 304 p. $16.99. Gr. 4-6
Kyle Keeley is a huge fan of games, all kinds of games but in particular video games. Enter Luigi Lemoncello, Kyle's idol and hero, inventor of games and the also the town's new library.  Kyle will an essay contest and is lucky to be of 12 kids invited to the library to spend and overnight filled with fun and adventure. BUT when the morning comes and it is time to leave, the doors are locked and the invited guests must solve clues to escape.
Mystery   Lourie Stewart Dunbar Township/Dunbar Borough Elementary Schools
Columbus, Chris and Ned Vizzini. Illustrations Greg Call. The Battle of the Beasts (House of Secrets Book 2) New York: Balzer + Bray, 2014.  ISBN 978-0-06-219249-3. 465 p.  $17.99. Gr. 5-8.
In the sequel to New York Times bestselling novel The House of Secrets (2013) and a Junior Library Guild selection, the Walker siblings are about to begin further journeys to protect their family. Fitting in at their new private school is not an easy process for anyone regardless as to how much money their family now possesses. To stop The Wind Witch, Eleanor, Cordelia and Brendan will find themselves in the middle of the Roman coliseum, struggling against Nazi cyborgs and in the mountains of Tibet to conquer terrifying monsters. New characters in addition to returning characters from the first book of the series add excitement to the tale. The Battle of the Beasts is one of my best book selections. I suggest partnering this novel with Maps and Geography by Ken Jennings. The Walker siblings travel to different time zones, world locations and time periods addressed in the non-fiction book.
Fiction (Adventure, Fantasy, Family)   Beth McGuire, Wendover Middle School
Federle, Tim. Five, six, seven, Nate. New York: Simon and Schuster, 2014. 978-14424-4693-9. 293 p. $16.99. Gr. 5-8.
Five, six, seven, Nate earned a star review from both Publishers Weekly, Kirkus Reviews and was a Junior Library Guild selection.  This is also the sequel to Better Nate Than Ever (2013). In this novel Nate is thrilled to have earned a role in E.T. on Broadway.. Practice is not all that he expected and it seems as if Libby's mom is doing worse with her cancer treatments but Libby makes new friends in his absence. Nate is not having the best experience with playing Alien #7. Many wonder if E.T. will become the biggest Broadway flop ever.  While Nate is in NY for the novel, many references from western PA grace the pages with Pirates, Steelers, Penguins, Roberto Clemente, pierogies, and Primanit Bros. sandwich.  Can Nate help to save the performance and will he make any new friends and also keep his old friends?  This is one of my selections for the Best of Best in children's literature. I suggest connecting this novel with Acting Out: Six one-act plays! Six Newbery Stars edited by Justin Chanda.
Fiction (Theater, Friendship, Social Issues)   Beth McGuire, Wendover Middle School
Gantos, Jack.  From Norvelt to Nowhere. New York: Farrar Straus Giroux, 2013. 978-0-374-37994-0. 278 p. $16.99. Gr. 5-8.
From Norvelt to Nowhere is the sequel to the 2012 Newbery winning novel Dead End in Norvelt. Star review from Booklist and Publisher's Weekly as well as a selection from Junior Library Guild. It is Halloween time in Norvelt and Bunny convinces Jack to dress up as Mr. Spizz, who is believed to have murdered all of the older Norvelt women. This does not go well and shortly after Miss Volker calls on a request to Mrs. Gantos. She asks if Jack can accompany her to Eleanor Roosevelt's funeral. Things continue to occur out of the ordinary including being trailed by detectives, learning Miss Volker's sister died as Jack tries to enjoy his many editions of Classics Illustrated on their dangerous journeys. From Novelt to Nowhere is one of my selections for the best of the best in childrens literature. Given the time period that the book takes place and events detailed in the book, I suggest linking this novel to Cath Senker's book Kennedy and the Cuban Missile Crisis from Days of Decision series.
Fiction (Action, Humor, Mystery)   Beth McGuire, Wendover Middle School 
Turnage,  Shelia. The ghosts ofTupelo Landing. New York: Penguin, 2014. 978-0-8037-3671-9. 352 p. $16.99. Gr. 5-8.
The ghosts of Tupelo Landing earned starred reviews from Publishers Weekly, School Library Journal, Bulletin of the Center for Children's books and Kirkus Reviews in addition to being a Junior Library Guild selection.   This novel is the follow up  to Three Times Lucky, 2013 Newbery honor novel. On the first day of school, Mayor Little shares that all sixth graders will interview an elder in honor of the towns 250th anniversary. Mo convinces Dale that they should interview the oldest member, the ghost at the inn. Can they solve the mystery of the ghost and complete their assignment? To complicate matters Mr. Red's grandson is in twon and they have a difficult time getting along, but it does seem that the pasts of the families are connected somehow. Turnage's novel is one of my selections for the best of the best in children's literature. I suggest linking this novel to the Photography for Teens series by Jason Skog as photography becomes Mo's new hobby in this book.
Fiction (Horror and Ghost Stories, Mystery)   Beth McGuire, Wendover Middle School 

Black, Holly.  Doll Bones.  New York: Margaret K. McElderry Books, 2013.  978-1-4169-6398-1. 244p.  $16.99. Gr. 4-6.
This book is about changing friendships, changing ideas and imagination.  Holly Black has created an incredible novel about what happens when we grow up and start to loose the ability and love for imaginative play.  The books adventure is centered around "The Queen", a bone china doll, and three friends joining together as life is starting to pull them apart.  The story is based on a ghost story and at times manipulation along with changes in friendships as we grow, older readers will be able to understand the nuances of the story as they are going through similar experiences in their own relationships.  Doll Bones is an engaging story that has a few black and white illustrations interspersed, I highly recommend this book for readers that enjoy this genre.
Fantasy/Paranormal                        Denise Naumann, Eisenhower Elementary

Creech, Sharon.  The Boy on the Porch.  New York: Joanna Cotler Books, 2013.  978-0-06-189235-6. 151p.  $16.99. Gr. 3-6.
When a boy is found on their porch, without a voice, without a reason and no one steps forward to identify him, what are John and Marta to think?  This is a story of family, compassion and understanding.  It is also a story that skirts the issues of abandonment, the foster care system and unexpected family.  The text and chapters are concise and perfect for young readers.  The lack of Jacob's speech is at the heart of the book and his use of body language, and art convey his thoughts and ideas.  As the story unfolds more information is revealed regarding the boy and his connections with animals and people.  This is an excellent read aloud that generates different discussions based on the text-to-self connections the readers/listeners reveal.  This novel is also an excellent discussion starter for body language and nonverbal communication.
Realistic Ficiton                                 Denise Naumann, Eisenhower Elementary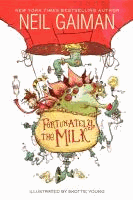 Gaiman, Neil.  Fortunately, the Milk.  New York, NY: Harper, 2013.  978-0-06-222407-1.  128 pages.  $14.99.  Grades 3-6.
Oh, bother!  Dad's been left in charge of the kids while mom is away.  In fact, he fails to have any milk the next morning for the children's cereal; and so he journeys out to the store and begins an amazing and entertaining romp through time and space.  As the children listen, the dad relays his unfortunate adventures with aliens, pirates, dinosaurs, vampires, and other dangers.  Fortunately, the milk stays in play throughout the story as one bizarre coincidence after another unpredictably unfolds.  Those who are fan of picture book misadventures like Could Be Worse by James Stevenson and Meanwhile! by Jules Feiffer and even Don't Forget the Bacon! by Pat Huchins, will see this as a quirky chapter book extension.  Neil Gaiman unravels his fantastical tale with dry wit and pleasure in a tone that differs from his other works for youth.  The formatting and design and illustrations from Skottie Young also go a long way to making Fortunately, the Milk succeed.  Fortunately, readers will enjoy the ride and want to hear it again.
My view:
I like quirky and strange tales, especially when they show some intelligence and catch me by surprise in ways that seem bizarrely plausible.  This book was one of those, and I have had a similar reaction from students that I shared it with.  It is a good fit for kids who don't fit other normal stories, and for those who want a quick adventure before bridging into Douglas Adams' Hitchhiker's Universe.
Partner text:Journey by starlight: A time traveler's guide to life, the universe, and everything by Flitcroft, I., & Spencer, B. (2013).  This is an interesting graphic novel for young adults which allows Albert Einstein to discuss the physics and philosophy behind the stuff of science fiction.
Recognition:
Horn Book starred (Spring 2014)
Science Fiction, Fantasy, Time Travel Dustin Brackbill State College Area School District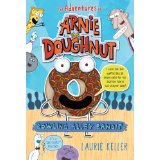 Keller, Laurie. The Adventures of Arnie the Doughnut: Bowling Alley Bandit. New York: Henry Holt and Company, 2013.  978-0-8050-9076-5-51399.  Unp.  $13.99.  Gr. 3-6.
The Adventures of Arnie the Doughnut: Bowling Alley Bandit is the first hilarious title in a chapter book series about Arnie the Doughnut, (inspired by a picture book with the same title.) Sporting 135 sprinkles, and iced with chocolate frosting, Arnie, a donut, convinces his owner that he would make a better pet than a breakfast treat, air freshener, picture frame, or pin cushion.. Mr. Bing decides Arnie will become his companionable donut–dog.  Told through text and fun cartoony illustrations drawn with black felt-tip pens, Arnie spends lots of time hanging out with Mr. Bing and his Bingbat bowling team at the Lemon Lanes Bowling Alley. Mr. Bing's donut is a popular entertainer there, singing Karaoke songs to the bowlers such as, "Livin' la vi-DOUGH Loca!", "Fried in the USA!" or, "DOUGHNUT make my brown eyes blue." Trouble brews, however, as the Bingbats league enjoys a winning streak against the competitive Yada-Yadas in the 62nd Annual Lemon Lanes Bowling Championship, when all of a sudden Mr. Bing starts rolling gutter balls. Arnie must solve the mystery of Mr. Bing's erring bowling ball. This "Who-Donut" mystery will fly off the shelves, especially for readers who crave humor. The comical puns, jokes, and whimsical fun illustrations make this clever donut mystery a winner.
Fiction (Donuts)                                                  Martha Lambertsen, Wallingford Elementary School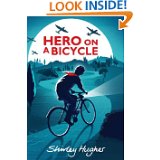 Hughes, Shirley. Hero on a Bicycle. Sommerville: Candlewick Press, 2013. 978-0-7636-6037-6.  213 p. $15.99     Gr. 5-8.
Paolo, a thirteen-year-old boy living in Florence, Italy in 1944 under Nazi occupation, has an unquenchable thirst for adventure. His father and many other men in Florence are part of the resistance movement, fighting the Nazis undercover.  Paolo doesn't even know where his father is or what secret missions he is involved with. He is stuck at home with his mother and sister doing chores, while many of the older boys have joined in the covert missions against the Nazis. Sneaking out alone on his bicycle around town late at night gives Paolo the thrill he's missing at home, even though he's aware of the risk he is taking with Nazi soldiers about.  Danger finds him in another way however, when Partisans (covert members of the anti-Nazi movement) capture him during one of his suspenseful rides through the unlit city. Paolo has to pay a huge price for his reckless night bicycle riding, implicating his mother and sister in a network of dangerous Partisans missions. This wartime story is exciting from the beginning, and the characters are so expertly developed, you care deeply about them. It is a perfect title for readers interested in war stories with true grit, skillfully showing the pain of war and the bravery and courage these Italians need to survive during their ruthless occupation.
Historical Fiction (World War II)                Martha Lambertsen, Wallingford Elementary School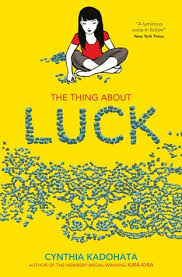 Kadohata, Cynthia. The Thing About Luck. New York: Atheneum, 2013. 978-1-4169-1882-0. 269 p. $16.99. Gr. 5-9. From the Newbery winning author of  Kira Kira, this is a sweet family story about Summer and her younger brother Jaz, Japanese migrant farm workers who must spend the summer with their traditional Japanese grandparents harvesting wheat in Kansas, Texas and Oklahoma. This coming of age story explores cultural differences, changing family dynamics, and the intricacies of growing up. Despite the hard work, her first romance attempts with the boss's son, her grandmother's harsh criticism, her brother's social awkwardness (possible Aspberger's), as well as ailing family members, Summer maintains a humorous and positive attitude throughout the book. Reader's who liked Out of my Mind last year will enjoy this quiet read.
Realistic Fiction                  Robin Bartley, Davis Elementary

Hopkinson, Deborah. The Great Trouble. New York: Knopf Publishing, 2013. 978-0375848186. 256p. $14.00. Grades 5+.Eel is an orphan who spends his days searching for food and things to sell. Besides being hunted by Fisheye Bill, he also must pay four shillings a week to keep his secret safe. In August 1854, Mr. Griggs, the tailor, is the first to get sick, with cholera, the "blue death". Dr. Snow has a theory about how the disease spreads. It's up to Eel and his best friend Florrie to help prove the doctor's theory before the city is wiped out. Steeped in fact, the book uses a story to teach students the science of the cholera epidemic as well as the history and class system of 19th century London. An author's note provides readers with a look at the real story behind the novel.
Historical (Victorian London)              Robin Bartley, Davis Elementary
Snowe, Olivia.  A home in the sky (Twice Told Tales series).  North Mankato, MN: Stone Arch Books, 2014.  978-1-4342-5041-4.  120p.  $23.99.  Grades 3-5.
This tale is a modern retelling of Jack and the Beanstalk, mixing in modern references with the classic features of the story.  Jack and his mom are struggling to get by and afford their apartment, so Jack has to go sell his favorite possession, his bike.  As you can guess, the result is a handful of beans, which in this case leads to a beanstalk rising to the top of a skyscraper where a powerful real estate mogul lives.  Jack still encounters gold and treasure, and makes some modern day choices regarding wealth and happiness.  This twice told tale is worth retelling – and rereading with others.
Fiction; Fantasy and twisted fairy tales   Dustin Brackbill State College Area School District

Galante, Cecilia. Little Wings (series). Milwaukee: Stepping stone, 2013. 112 p. $12.00.ea. Grade 1-4
Most cupids have soft silky hair, rosy cheeks and snow white wings. This series about a lovable crazy-haired, freckled cupid with bright purple wings whose curious and helpful nature gets her into trouble and takes her on many adventures. The books will especially appeal to primary grade girls. Text is arranged in beginning chapters with black and white illustrations throughout.
           __. Willa Bean's Cloud Dreams. 978-0375869471.
           __. Be Brave, Willa Bean. 978-0375869488.
           __.  Star-Bubble Trouble. 978-0375869495.
          __. Willa Bean to the rescue. 978-0449810033.
          __. The One and Only Willa Bean. 978-0375869501.
Fantasy                        Robin Bartley, Davis Elementary

Jones, Christine Brodien. The Glass Puzzle. New York: Delacorte Books, 2013.  978-0385742979. 336p. $14.00. Gr 3-7
11 year old Zoé and her cousin Ian are spending the summer with Grandad in Tenby, Wales, a mystical coastal town with secret tunnels, tales of pirates. An ancient island, Wythernsea, disappeared off the coast in 1349. When Zoe finds an old piece of glass and looks at some of the villagers through it, they become three-eyed monsters!  She and Ian discover that the glass is part of a puzzle that connects their world to Wynthernsea. The portal allows them to visit the lost island but also allows monsters through who then inhabit the villagers. The two must find the Scraven leader and the rune stone in time to close the portal and save the town.
Fantasy                           Robin Bartley, Davis Elementary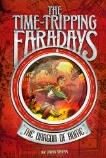 Seven, John . The Time-tripping Faradays (series). Mankato: Capstone, 2013. 160p. Grades 4-8.
            __.The Alchemist War. 978-1623700119.
            __.The Dragon of Rome. 978-1623700126.
            __.Terror of Tengu. 978-1434291752.
            __.The Outlaw of Sherwood Forest. 978-1434291769.
Dawk and Hypes' get to travel with their parents for work. Their parents are 25th century researchers who document lost moments in history. The cool part is that they actually go back in time to witness it first hand! In the future, world knowledge is accessed through the NeuroNet and people can communicate instantly via the Link. Their adventures include nearly derailing Hannibal's march across the Alps, finding a man in ancient Prague who claims he can turn metal into goal, and discovering that mythological dragons may actually be real?? Readers of Magic Tree House, Time Warp Trio and Infinity Ring will enjoy this series.
Science Fiction/Historical                     Robin Bartley, Davis Elementary

Troupe, Thomas Kingsley. Furry and Flo (series). Mankato: Capstone, 2013. 128p. $9.00. Grades 3-4.
            __. The Big Hairy Secret. 978-1623700331.
            __. Problems with Goblins. 978-1623700348.
            __. The Misplaced Mummy. 978-1623700478.
            __. The Skeletons in City Park. 978-1623700485.
Fourth grader, Flo Gardner, has moved a lot with her mom since her dad died. She is tired of moving and isn't exactly thrilled with Corman Towers, a giant apartment building in the middle of the city. She is calm and cool while her friend, Ferdinand, better known as Furry, is a nervous sidekick. The book contains a mix of spot and full page cartoon style illustrations. An interesting mix of realism as well as the paranormal creates a rather creepy adventure.
Fantasy                             Robin Bartley, Davis Elementary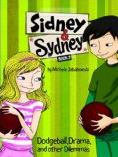 Jakubowski, Michelle. Sydney & Sidney (series). Mankato: Capstone, 2013. 128 p. $10.00. Grades 1-3.
            __. Third Grade Mix-Up. 978-1404881044.
            __. Dodgeball, Drama and other Dilemmas. 978-1479521166.
This series is narrated in alternating chapters by two third graders, a boy and a girl, whose names are nearly identical. Sidney just moved to Oak Grove. On the first day of school, things get kind of awkward when Sydney accidentally sits in his seat and even more weird when her mother invites him and his mom for dinner. The two classmates, one- a fashionista, the other a world traveler, find out they actually have a lot in common, including a game called Galaxy Quest. In the second book in the series, their adventures continue as the two, now fast friends, tackle dodge ball, the spelling bee, and the school play!
Realistic                                   Robin Bartley, Davis Elementary

Dana, Reinhardt. Odessa Again. New York: Wendy Lamb Books, 2013. 978-0385739566. 208p. $12.00. Grades 3-7.
Fourth grader Odessa Green-Light's parents are divorced. She lives with her mom and her little brother, Oliver. Her dad is getting remarried. Odessa moves into the attic room of their new house and one day when she gets mad at Oliver and stomps on the floor, she spirals through time going back an entire day! With her new power she decides to fix things – embarrassing moments, big mistakes, especially reuniting her Mom and Dad.
Odessa matures as she makes discoveries about her relationships with friends and family through the use of her new power.
Science Fiction                     Robin Bartley, Davis Elementary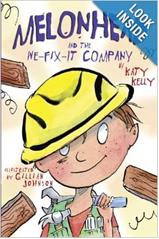 Kelly, Katy. Melonhead and the We-Fix-It-Company (Melonhead series). New York: Delacorte, 2013. 978-0385-74165-1. 232p. $14.99. Gr. 3-6.
Author Kelly gives us the 5th installment in the hilarious and breezy Melonhead series. Adam Melon, also known as Melonhead, and his best friend Sam have a penchant for daring deeds such as drinking each other's disgusting concoctions ("the Beast"), getting into "situations," and breaking things. The problem is that neither Sam nor Melonhead receive an allowance so how can they afford to make things right when they go wrong? You guessed it, their newly formed We-Fix-It-Company. Kelly nails the dialog and inner voice of active, imaginative boys of a certain age and delivers belly laughs a la Judy Blume books. Highly recommended.
Humorous Realistic Fiction Kathie Jackson, Plymouth Meeting Friends School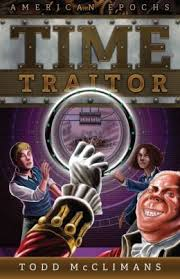 McClimans, Todd.  Time Traitor (American Epochs). Charleston: Northampton House Press, 2014.         978-1-937997-36-6. 182 p.  $11.95. Gr. 5-8.
Author Todd McClimans is a Pennsylvanian elementary school principal. His first book in the American Epochs series, Time Traitor, was published by Northampton House Press, a company who publishes works by writers who are just breaking on to the literary scene. It's available for purchase on the Northampton House Press website or through e-book via Amazon. I will admit, I often judge a book by its cover, and the poor quality artwork on the front cover does nothing for the fantastic story inside. Time Traitor follows two young students from George Washington Prep named Kristi Connors and Ty Jordan. They've both been sent there because of family issues (Kristi's parents are separating, Ty's mother has just died and his step-father wants rid of him) so neither is happy to be at GWP. The school isn't exactly welcoming—Ty is constantly followed by bullies and history teacher Dr. Xavier Arnold seems to have it in for class-clown Kristi. Things really pick up in the story when Kristi discovers that Dr. Arnold has built a working time machine, and he whisks her and Ty back to Colonial America so that they can't spill his secret. Arnold is the distant relative of General Benedict Arnold and is determined to change history so that Benedict Arnold is remembered as a great hero.  Things go from bad to worse when Arnold sells Ty to a farmer as a laborer and puts African American Kristi in a slave auction. Luckily, someone knows their secret and offers to help. Ty and Kristi spend the next few months back in Colonial America, developing a plan to stop Arnold from altering the course of history. The ending wraps up neatly but McClimans has a planned sequel called Time Underground so apparently the story's not over! I think that this would work very well as a read-aloud in a fifth or sixth grade classroom, or put it in the hands of kids who like the time-travel/historical fiction combo (I'm thinking of my Infinity Ring fans).
Fiction                                             Lindsey Long, Nye Elementary School