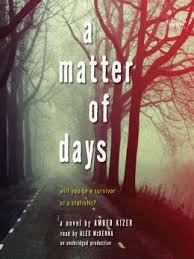 Kizer, Amber. A Matter of Days. New York: Delacorte, 2013. 978-0-385-73973-3. 276 p. $16.99. Gr. 6-12. 
Following the release of a deadly virus which killed ninety-eight percent of the world population, sixteen-year-old Nadia and her little brother Rabbit must follow Uncle Bean's plan to join him and their grandfather, Pappi, across the country. Chapters are divided by the amount of days since the outbreak, beginning on day 56, when their mother dies and the pair set out in their loaded Jeep.  Throughout their journey they encounter problems including heavy snow, multiple thieves, and ruthless gangs, but also some kindness. On day 62 they rescue a seriously injured Saint Bernard they name Twawki, and on day 63 they meet Zach, a formerly homeless teen. He kindly shares his resources and on day 75, moves on with Nadia, Rabbit, Twawki and Al, an entertaining parrot. On day 100, exhausted and disheveled, they finally reach Pappi's survivalist camp, their new home. This adventurous page turner is not as graphically brutal as other recent apocalyptic titles.
Science Fiction                       Michelle Hankin, Sandy Run Middle School
In a four page author's note, Kizer discusses her interest in viruses as her purpose for writing this story. She speaks directly to readers about viruses in general, the likelihood of a pandemic of this magnitude occurring and past pandemics, recommending reading for those interested in learning more. While reassuring those who may fear these topics, she also recommends survivalist books and possible careers for those interested.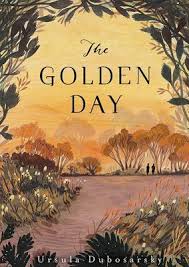 Dubosarsky, Ursula. The Golden Day. Massachusetts:  Candlewick Press, 2011. 1st US Edition 2013.  978-0763663995. 149p. $15.99. Gr. 9-12.
Miss Renshaw is a fourth grade teacher at an all girls private school in Australia and is peculiar to say the least. She regularly takes her class on a walking field trip to a local park, and the girls note that Miss Renshaw is always seen talking to one of the caretakers, Morgan. She talks to the girls about Morgan and asks that they keep Morgan a secret. One day Miss Renshaw takes the girls on a field trip when she and Morgan take them into the caves along the harbor. The girls get scared and go back outside and that was the last time they saw Miss Renshaw. What follows is a strange narrative where the girls collectively decide not to tell anyone where they were and who was there. The story later jumps to when the girls are getting ready to graduate from high school and the girls discover that they have not really forgotten Miss Renshaw and the events of that day so long ago and their part in the mystery.
Realistic                                         Marian Kohan, Erie School District
Overall this was a strange story. Because all of the references are mainly Australian, students may have trouble relating to the characters and their problems. The ending of this novel is just plain bizarre and does little to help give the story a true resolution.