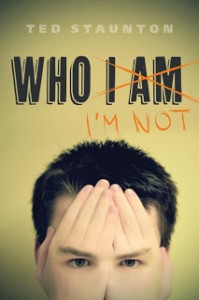 Staunton, Ted.  Who I Am Not. Victoria: Orca Book Publishers, 2013. 978-1-4598-0434-0. $12.95. 186p. Gr. 8 and up.
Danny has gone by countless names during the last few years, but that's normal when you're working with a conman.  Soon his life changes though; Harley is shot.  Danny now finds himself sitting in front of child services attempting to lie his way out of the keying incident.  He refuses to be placed back in foster care; never to revisit the "bad times".  That's when he decides to become Danny Dellomondo, missing kid.  When he's reunited with the Dellomondo family, his acceptance is immediate and unquestioned even though he doesn't resemble the real Danny all that closely.  His family may be willing to move on and look to a prominent future, but Detective Griffin refuses to let the case rest.  Ty, Danny's drug-addict brother adds a certain nefarious element to the situation as well, so Danny continues to plan his escape as soon as he has the money.  In the end readers may find themselves wondering, who's conning whom?
Realistic Fiction    Christine Massey, JWP Middle School
Danny is a despicable yet likable character.  Orphaned at a young age, he has experienced his share of abuse and mistreatment.  When Harley enters the story, he convinces Danny's guardians to sell the boy, and Danny becomes an integral part of every con.  While he doesn't trust anyone, he slowly opens his heart to Gillian.  Possibly because of her name, but something stronger than a simple connection to character from his favorite children's story.  Gillian is living a life shrouded with rumors of her father's promiscuity and squander, so she understands keeping secrets and maintaining anonymity. The two seem to be a perfect match, but destiny may not agree.