Eulberg, Elizabeth. Better Off Friends. New York: Scholastic, 2014. 978-0-545-55145-8. 288p. $17.99. Gr. 7 and up.
Levi and Macallan have been best friends since shortly after they met when Levi moved to Wisconsin from California at the start of seventh grade. Better Off Friends follows this friendship as it develops over the following five years. As time passes, Levi and Macallan must deal with competing friendships, their individual romantic relationships, and the misunderstandings and fights that all friends encounter. Will their friendship be able to survive? And what about the realization that Levi and Macallan separately reach—that they have romantic feelings for one another.  They've always said they are better off as friends, but are they really?
Realistic                   Elizabeth Henry, Lampeter-Strasburg HS/MS
Some professional reviewers have compared the plot of Better Off Friends to that of the film When Harry Met Sally. In fact, it's no secret that this film inspired the novel—Eulberg mentions the fact on her website, and it is mentioned in the acknowledgements in the book. While this might render the overall plot somewhat predictable to viewers of the movie, it is still an enjoyable read (after all, there's a reason When Harry Met Sally remains such a popular film). While an overall romantic comedy tone is present in the novel, Eulberg also includes realistic plot points such as Macallan's ongoing grief at the loss of her mother a few years earlier as well as Levi's struggles to fit in to the guy cliques at school. Recommend to fans of YA romances.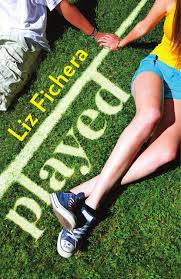 Fichera, Liz. Played. Don Mills, Ontario: HarlequinTeen, 2014. 978-0-373-21094-7. 341p. $9.99. Gr. 9 and up. 
At first glance, Sam Tracy and Riley Berenger seem to come from two different worlds. Sam, a Native American likes to hang out with his friends on the reservation and works to not draw attention to himself. Riley loves the color pink and is concerned with improving her social status at school. When Sam rescues Riley after she falls off a mountain ridge while they are attending a school-sponsored camp, Riley decides to return the favor and help Sam out. Her goal: break up the relationship between Fred (Sam's longtime crush) and her new boyfriend Ryan. The complication: Ryan is Riley's older brother. As to be expected, problems and misunderstandings ensue in the alternating chapters told from both Sam and Riley's viewpoints. In the midst of all the drama, Riley and Sam discover that perhaps they have more in common than they initially thought.
Realistic Fiction        Elizabeth Henry, Lampeter-Strasburg HS/MS

Played serves as a companion of sorts to Fichera's 2013 book Hooked, which detailed the relationship of Riley's older brother Ryan and Sam's crush, Fred(ricka). Readers need not have read the prior book in order to understand and appreciate Played. While I did feel that the ultimate conclusion of Played was somewhat predictable and Sam had to rescue Riley a few too many times for my tastes, what makes this book blog-worthy in my opinion is the integration of issues related to Southwestern Native Americans throughout the story. Sam and Riley encounter issues such as stereotypes, race and class throughout the novel. Through Sam's eyes, the reader gains an insight into modern-day reservation life and some of the issues facing today's Native American teens. Sam was the most well-rounded and fully developed character in the story—I would gladly have read a book totally from his perspective!