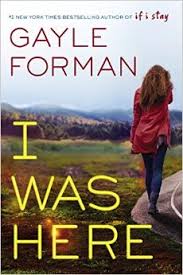 Forman, Gayle. I Was Here. New York: Viking, 2015. Print. 978-0451471475. 288 p. $18.99. Gr. 9+.
The newest novel by Gayle Forman is an intense read, and, yet, sadly, a timely story for today's youth. Similar in theme to Thirteen Reasons Why by Jay Asher and Please Forgive Me, Leonard Peacock by Matthew Quick, I Was Here tackles the difficult subject of teen suicide. Forman succeeds in writing a story with realistic and engaging characters and plot. Meg and Cody have been best friends since grade school. Since Cody's family consists of only her mother Tricia (who insists that Cody call her by her first name), Cody spent a majority of her time growing up as a part of Meg's family. But ever since they graduated and Meg moved away to begin her first year at college, they talked less and less and did not see each other as much as they planned. Cody was supposed to go to school near Meg, but did not have the funds to attend school yet, and instead spends her time cleaning houses. Cody's world is turned upside down when she receives an email from Meg stating that she has committed suicide. While cleaning out Meg's apartment, at the request of Meg's parents, Cody finds other emails on Meg's computer that cause her to wonder why and how Meg got to the point where she felt the only option was suicide. Cody begins communicating with a boy that supposedly broke Meg's heart, and Cody is confused by her attraction to this boy. As Cody begins looking into the time before Meg's death, she learns more about a sinister world that exists to assist those who want to commit suicide. This is a story that needs to be handled with care and mainly offered to mature young adults or supported with discussion by an adult. Forman includes a much-needed author's note describing her connection to the story, why she chose to write it, and avenues for help for those suffering from depression.
I absolutely LOVE Gayle Forman and became a big fan of hers after falling in love with If I Stay. Though her sequels do not always hit the mark, I also loved Just One Day. After reading the premise for I Was Here, I was interested to see what path Forman would take when discussing the subject of teen suicide. Unfortunately, this topic has been foremost in our minds lately due to news reports of teen suicide and the prevalence of mental disorders and depression among teens and young adults. At first, and through many parts of the novel, I was apprehensive about the direction the plot was taking. At one point Cody discovers how Meg decided to commit suicide and what prompted her to do so, and I was nervous about the possibility of exposing susceptible teens to these ideas. Forman, however, handles the plot and characters' actions well and clearly shows the negative outcomes of access to an unlimited amount of information (both good and bad) on the Internet. Her much-needed author's note at the end is something that all teens should read when finished with the novel. I am eager to share this title with students and hear their reactions, especially since Thirteen Reasons Why was such a popular title for so long. I still keep in touch with one former student who is also a fan of Gayle Forman, and I am excited to discuss this new novel with her as well!
Realistic Fiction          Lindsey Myers, Peters Township High School
Forman, Gayle. I Was Here. New York: Viking, 2015. 978-0-451-47147-5. 270p. $18.99. Gr. 9 and up.
Meg and Cody were inseparable until Meg's college scholarship took her to the University of the Cascades and way from their Eastern Washington town.  Although they tried to remain as close as always, physical distance separated their once inseparable friendship.  Now Meg is dead, and Cody is determined to figure out why her best friend committed suicide.  As Cody tries to deal with the lack of information surrounding Meg's death and the suicide note Meg emailed her family, Cody, and the Tacoma Police Department, she is determined to find out what happened to Meg, their friendship, and the life she once knew.  Gayle Forman eloquently explores the impact of suicide on loved ones, friendships, growth, and separation in I Was Here.  Focusing on the impact Meg's death has on Cody provides a unique perspective into how and why people choose to commit suicide and the impact death has in a young person's life.  As Cody tries to piece together Meg's life in college, she not only figures out who Meg was without her, but who she can become without Meg and because of Meg.  I Was Here is one of the most beautifully written novels of love and loss.
In my opinion Gayle Forman is the best young adult writer currently publishing.  She tackles difficult issues and emotions with beauty and tack that many writers could only imagine.  She takes on the emotions and the maturation process of teenagers and young people and weaves them into magical stories of reality that draw forth reader emotions and connections to all of her characters.  Often adult novels or authors are described as YA crossover; Gayle Forman is a YA author that is an adult crossover.  I Was Here may focus on the friendship between two teens and the loss one feels, but Meg's parents feel things too, and it is through Cody that they find a way to cope.  Parents who feel loss will understand and relate to this novel as much as students who have dealt with grief.  This novel is a novel of healing, and in a world with much grief it provides hope.
Realistic Fiction   Erin Parkinson, Lincoln JSHS, Ellwood City