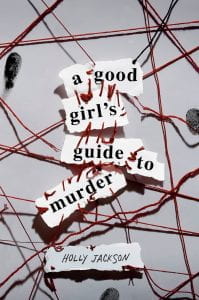 Jackson, Holly. A Good Girl's Guide to Murder. Delacorte Press. 2020. 978-1-984-89636-0. 400 p. $17.99. Grades 9-12.
Pippa Fitz-Amobi is a good girl: high achiever, faithful friend, devoted daughter, and big sister. So it's a bit out of character for her to solve a murder for her senior capstone project, especially because it's one that's already been solved. Five years ago, high school senior Andie Bell disappeared from their small town of Fairfield, Connecticut. Her body was never found, but the remains of her boyfriend, Salil "Sal" Singh, were discovered in the woods along with evidence that he had killed Andie and then committed suicide out of guilt. Pippa's instincts, honed on true crime podcasts and documentaries, tell her that Sal is innocent. She aims to raise enough doubts about Sal's guilt to convince the police to revisit the case. With the help of Sal's younger brother, Ravi, Pippa susses out one lead after another, untangling clues and connections hidden within interview transcripts, journal entries, and text messages. Meanwhile someone with much to lose is watching their every move — and he (or she?) is unafraid to follow through on threats against what Pippa holds dearest when she refuses to stop digging. Holly Jackson skillfully weaves the elements of a solid mystery into her debut: suspense, red herrings, breathless amateur surveillance, and even a spooky dark alley. A huge twist, revealed just when the crimes have seemingly been solved, propels the pace right to the final page.
THOUGHTS: Mystery fans, take note: You'll be hooked from the "Murder Map" that appears on page 29! This fast-paced whodunnit is perfect for fans of Karen M. McManus' thrillers, especially Two Can Keep a Secret. Note that this novel's potentially sensitive topics include suicide, sexual assault, and an animal in peril.
Mystery          Amy V. Pickett, Ridley SD
Pippa Fitz-Amobi has everything going for her: She's a good student with good friends and a great family. Pip is a "good girl," and she can't help but notice how local missing (presumed murdered but never found) Andie Bell also seemed like a good girl. A fan of true crime podcasts and documentaries, Pip can't ignore the feeling that the five year old murder/suicide of two local teens has some gaps in its investigation. She knew Sal when she was younger, and he couldn't have possibly killed Andie then himself. Or did he? Though she sells it to her advisor as a look at how media sensationalizing can impact an investigation, Pip decides her senior capstone project will be to look into the Andie Bell case. As she uncovers one clue after the next, she begins to hope that she can prove Sal's innocence. When Pip receives a threat telling her to stop digging, she knows she must be onto something. Then again, maybe someone is just playing a sick joke. Getting closer to Sal's little brother Ravi during her investigation doesn't help Pip keep her feelings separate from the case. When a threat hits close to home, Pip is ready to give up. She might be paranoid, but it seems like someone in Fairview doesn't want her to keep looking. Told throughout Pip's investigation, readers will be on the edge of their seats to learn what really happened to Andie Bell and if Pip will successfully complete her project.

THOUGHTS: Told in a variety of formats, readers will not want to put down this fast-paced mystery. The full cast audiobook is excellent. Fans of other YA Thrillers by authors like Karen M. McManus, April Henry, and Gretchen McNeil will be happy to have a new author to enjoy. Mature topics (drug use, drinking, and suicide) make this one best suited for high school readers.
Mystery          Maryalice Bond, South Middleton SD