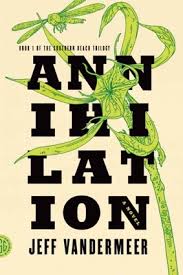 VanderMeer, Jeff. Annihilation. New York: FGS Originals, 2014. 978-0-37410-409-2. $13.00. Gr 9+.
Area X is a unknown and mysterious plot of land where 11 prior expeditions have failed; members have either disappeared, committed suicide, turned on one another during the mission, or returned as shadows of their former selves only to be consumed by cancer within months of their return.  The most recent, 12th expedition follows 4 women into the unknown in this first book in The Southern Reach Trilogy. Known only by their titles, a surveyor, an anthropologist, a psychologist, and a biologist, who also happens to narrate, descend into Area X to record their observations in the field and report back to a part of the government know as the Southern Reach. Immediately upon arriving in Area X, distrust runs between the group, and tensions flare when a tower is discovered that is not on any map from the previous expeditions. Mysterious writing on the wall of the tower turns out to be a life form, and the tower, a tunnel, and things get even stranger when the anthropologist disappears. Through tense, and possibly unreliable narration, the biologist discovers that Area X is not at all what it seems.  VanderMeer is a master of suspense. Give this to fans of almost any genre. It is a superb combination of sci-fi, mystery, dystopia, action, and thrills. This trilogy will be flying off the shelves!
Science Fiction, Mystery     Vicki Schwoebel, Friends' Central School
This is one of the best books I've read this year. It is short and suspenseful, and you have this sense of dread the entire read; it's amazing that an author can do that in 200 pages! I love that it's a blend of so many genres, while never fully settling on one. The story is creepy but not gory, or illicit, or chock full of violence and sex. While categorized as an "adult" book, its totally suitable for older teens. I can't recommend this one, as well as the entire trilogy, enough!