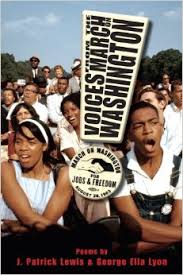 Lewis, J. Patrick, and George Ella Lyon. Voices from the March on Washington. Honesdale, PA: Wordsong, 2014. 978-1-62091-785-5. 114 p. $15.95. Gr. 8 and up.
The authors offer up this wonderful volume of poems as their answer to these questions, posed in their Introduction: "Who were the marchers? Why did they risk their lives to be there? How were they changed by that day?" Some names are well known in connection with the August 28, 1963, march: Martin Luther King, Jr., John Lewis, and A. Philip Randolph, to name a few, but they were a few famous faces among 250,000 people, "a tiny island in that multicolored sea." The testimony of the unknown marchers is represented through poems in the voices of fictional characters such as 23-year old Iowa farm hand Emma Wallace, and 15-year old high school student Renée Newsome, and others. With Dr. King's "I Have a Dream" speech at the emotional core of this book, the poems describe the anticipation, apprehension, and inspiration of the marchers on that historic day. This book may be enjoyed as a whole, or poems may be selected for classroom use (the opening concrete poem "Reflection," shaped like the Lincoln Memorial Reflecting Pool, is a personal favorite). It is a valuable addition to any Civil Rights collection.
Poetry (811); Civil Rights      Amy V. Pickett, Ridley High School
This volume of poetry will be an excellent mentor text in Creative Writing classrooms. Students could refer to it as an example of how to interpret a life-changing event through poetry. It would also make a natural companion read with John Lewis' graphic novels March: Book One and Book Two, which provide another perspective on nonviolent Civil Rights demonstrations.