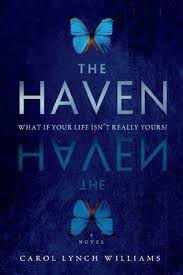 Williams, Carol Lynch. The Haven. New York: St. Martin's Griffin, 2014. 978-0-312-69871-3. 209p. $18.99. Gr. 9 and up.
Haven Hospital & Halls Where You Matter Established 2020.
Shiloh has only ever known life at Haven Hospital & Halls.  She has only ever eaten food grown at Haven; she has only ever had friends at Haven; only ever known the walls of Haven.  She has been educated by Haven, and yet, Shiloh knows deep down that something is not quite right at Haven Hospital & Halls.  When Dr. King, head of Haven, comes "too soon" according to Shiloh, she, and her friend Abigail, can only hope that he has not come for one of them, a Terminal fighting the Disease.  As Shiloh continues her life in Haven as a Terminal, Abigail and Gideon, another terminal, convince Shiloh that something is wrong; something else exists beyond the walls of Haven, and it is up to them to find out the truth behind Haven Hospital & Halls.
Carol Lynch Williams delivers a hauntingly futuristic look at society, medicine, scientific discovery, and biomedical advancement and ethics in The Haven.  Although 2020 is only five years away, Williams novel goes beyond that year.  The events and setting of the novel establish it as very futuristic, yet forces the reader to question whether or not Haven Hospital could be or should be a reality, and how soon we may be faced with this reality.  The Haven is a short novel but very challenging.  Williams is vague throughout the beginning, mirroring Shiloh's lack of memory and understanding.  This forces the reader to become involved in figuring out the setting, characters, and plot.  As it develops, her literary techniques only add to the intensity and horror of what Haven Hospital & Halls actually is and the reality that could face our society at any time.  The Haven is one of the best YA books of 2014 because it takes a look at a realistic future, even if terrifying, and develops characters and events because of that future reality.  Williams's characters question themselves and their situation, love, feel loss, follow, and lead, while continually recognizing that they are flawed because of the choices made by society.  The Haven will challenge readers understanding and hope of technology in the future.
Science Fiction   Erin Parkinson, Lincoln JSHS, Ellwood City