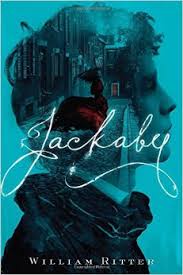 Ritter, William.  Jackaby.  Chapel Hill, NC: Algonquin Books, 2014.  978-1-61620-353-5. 299 p.  $16.95.  Gr. 7 and up.
Abigail Rook is unlike many other young ladies from late 19th century Britain.  Against her family's wishes, she has abandoned college to join an archeological dig in the Ukraine.  When the expedition is suspended, she boards a ship to America and ends up in the city of New Fiddleham.  Abigail's situation is desperate; she doesn't have proper clothing; she needs money, and she has few real job skills.  She soon meets R.F. Jackaby, a detective who hires her as his assistant on a trial basis.  Jackaby is a different sort of detective; he considers himself a "seer" who can recognize supernatural creatures (including a Ukrainian house spirit who hitched a ride to America on Abigail's dress).
As the story begins, Jackaby is searching for a serial murderer.  While the city's police are convinced that the criminal is human, he suspects a paranormal being.  Abigail has a knack for noticing ordinary but significant details, which makes her the perfect complement to Jackaby, with his otherworldly mindset.  The relationship between Jackaby and the police is strained, but Jackaby and Abigail find a friend in the police department's new detective, Charlie Cane.  Together, they discover that the culprit is a red cap goblin who stays alive by keeping his red cap soaked in fresh human blood.  The goblin has taken on the form of a man, and his human identity is quite unexpected.
This is simply a fun book.  Jackaby is a fascinating character.  He is condescending but also displays great compassion to those in need.  His house is wildly disorganized, and the disarray has spread to his trademark many-pocketed coat and ugly hat. Abigail befriends his resident ghost, Jenny, and his former assistant (who has been turned into a duck by a malevolent spirit).  The different supernatural spirits also add some color and excitement to the story.  This book had the potential to be both bloody and grim.  However, it is full of tongue-in-cheek humor, much like a classic "Dr. Who" episode.  Jackaby, Abigail, and Charlie are not yet fully developed characters, but this is the first volume in a series of Jackaby tales. The second book will be published in September 2015, so there is room for future development in many areas.
Mystery; Paranormal    Susan Fox, Washington Jr. /Sr. High School