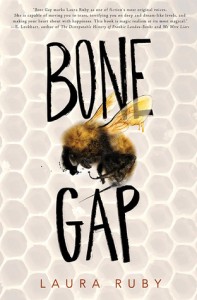 Ruby, Laura. Bone Gap. New York: Balzer & Bray, 2015. 978-0-06-231760-5. 345 p. $17.99. Gr. 9 and up.
Bone Gap, Illinois, is a mysterious and magical place where small-town intrigue coexists with an undying menace. Finn O'Sullivan (a.k.a. Sidetrack) lives with his paramedic older brother, Sean. One night a beautiful but battered young woman named Roza appears in their barn. She quickly slips into their lives (and Sean's heart). When she is kidnapped at the Spring Fair, Finn – the only witness – is frustratingly unable to give a detailed description of the abductor. As Sean mourns the loss of Roza, Finn connects with Priscilla "Petey" Willis, the beekeeper's daughter. Even as they fall in love, Petey doesn't trust that Finn can accept her unusual face, and she digs for a reason why he's such a "Spaceman." Chapters alternate between Bone Gap and Roza's captivity; add romantic nighttime horseback rides and a trip to the underworld and you have a sense of just how deep Bone Gap's metaphors, myths, and magical realism go.
Realistic Fiction (Magical Realism)     Amy V. Pickett, Ridley High School
This novel begs to be discussed! It would be a wonderful choice for a student book club or Psychology class. Be sure to explore some of the connected myths, especially Persephone and Demeter.