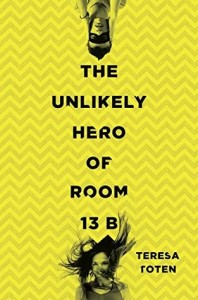 Toten, Teresa. The Unlikely Hero of Room 13B. New York: Delacorte Press, 2015. 978-0-553-50786-7. $17.99. 289p. Gr. 8+.
Adam Spencer Ross.  Meds:  Anafranil 25 mg 1 x per day; Ativan as needed 4-6.  Primary presenting compulsions: ordering, counting, magical thinking (re: clearing rituals).
Adam struggles with the same issues other 15-year-olds encounter: divorced parents, a challenging step-brother, and making friends.  He also has more critical issues including obsessive compulsive disorder (OCD) and a mother who hordes mass quantities of accoutrements.  With the help of his small group therapy sessions and individual counseling with Chuck, Adam believes he's adequately coping with life.  Then enters Robyn Plummer, and Adam's overwhelming desire to save her compels him to follow her home, through the cemetery, where he learns her mother committed suicide.  While Robyn is older and incredibly beautiful, she is drawn to Adam, someone she can finally confide in with honestly.  Masked in the superhero identities chosen during group session, Batman (Adam), Robin (Robyn), and the rest of the lovable group of mavericks venture to town, exploring the realm of the Catholic Church, friendships, and first love.  Adam truly believes he can save Robyn, but suddenly he's getting worse.  In order to be a hero, he will have to sacrifice his beloved and be candid with the people who care about him.
Adam is an incredibly charming and endearing character.  Readers will cheer for him as he helps his friends overcome problems and comforts his step-brother "Sweetie" during recurring meltdowns.  His indelible strength and compassion for others make him simply irresistible.  Readers will learn more about the complexities and hindrances of OCD, the poignant intervals of debilitating agony relieved with surprising moments of clarity and humorous witticism.  Fans of John Green's The Fault in Our Stars will enjoy Toten's latest book.
Realistic Fiction    Christine Massey, JWP Middle School