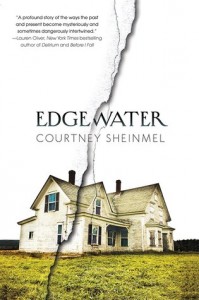 Sheinmel, Courtney. Edgewater. New York: Amulet. 2015. 978-1-419716416. 336p. $17.95. Grades 8 to 12.
Edgewater, a beautiful coastal town for the rich and the famous full of mansions and pristine beaches; a small town feel with all of the upgrades. Lorrie has lived here all of her life. She goes to the prestigious Hillyer Academy during the school year and an expensive equestrian camp in the summers. But, Lorrie Hollander is different from her wealthy, entitled neighbors. Her mother left her 12 years ago in the "care" of her mentally unstable Aunt Gigi. Although Gigi makes some effort to keep up pretenses by doling out Lorrie's trust fund, their once beautiful estate has become a pitiful shell of its former self. Lorrie begins to realize that not everything is as it seems. Bills begin to go unpaid. The house is in even worse shape than usual. The last straw is a letter from her school saying that her spot at Hillyer has been given to another student since her tuition has not been paid. Lorrie learns that her mother has a secret past that connects her to one of the wealthiest and most important families on the island. How does Lorrie fit into the tangle of lies and deceit? How can she take care of her and her sister by herself?
I wasn't sure about this book at the start. It read like a typical teen-angst novel. It took me a few chapters to really get into the groove of this book, but I soon began to respect and eventually love Lorrie. Her grit and determination to take care of her sister made me cheer for her all the way to the end. I was also emotional when Lorrie had to make tough choices and sell items that were very dear to her in order to pay her bills. I wanted things to end well for her (although I won't tell you whether or not they did). Teens will connect with this book on many levels. I always have students looking for horse-themed books, and this one has enough to hook them and keep them reading. The celebrity angle will also hook teens, as well as the romance theme. Once I connected with these characters, I really liked this book and recommend it highly.
Realistic Fiction        Corey Hall, Elizabethtown Area MS/HS