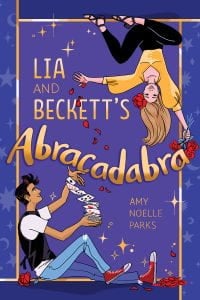 Parks, Amy Noelle. Lia and Beckett's Abracadabra. Amulet, 2022. 978-1-319-75344-2. 296 p. $17.99. Grades 7-12.
Lia is delighted when she receives a letter from her missing grandmother, inviting her to compete in a stage magic competition to be held in Mirror Lake, a retreat for magicians where her grandmother resides. Over the protests of her mother, who wants Lia to do something "meaningful" with her summer, Lia eagerly escapes to Mirror Lake, to practice the tricks her magician grandmother has taught her. Lia is determined to win the competition, make her grandmother proud, and take the prize, the small theater her grandmother has owned for years. Lia definitely wants to keep it out of the hands of the Blackwell boys, grandsons of her grandmother's ex-husband and magic partner. Lia has been warned to stay away from the Blackwell boys, but while Lia may be great at counting cards and sleight of hand, she wasn't counting on Beckett Blackwell being so cute, and nice, and good at magic, even though it clearly is not his passion. However, as the competition progresses, Lia realizes there is more at stake than the theater. Additionally, Lia and Beckett team up to exact revenge on Beckett's cousin, Elliot, a talented mentalist who uses his gifts for nefarious purposes. This addictive rom-com is entertaining from the start. Readers will root for Lia to follow her muse, despite the pressure from her mother, as well as for Lia and Beckett to (inevitably) find each other. The amusing con Lia sets up to crush Elliot adds spice to the pot, and the story rounds out with a feminist punch, as the reparations for the historic dismissal of female magicians ties up the plot. Readers will be left with a big grin on their faces and warm fuzzies in their heart.
THOUGHTS: This delightful book contains everything a good romance should, and makes a solid purchase where romance is popular.
Romance          Nancy Nadig, Penn Manor SD