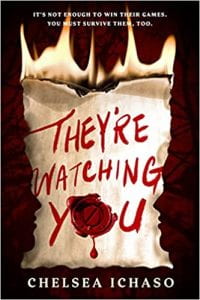 Ichaso, Chelsea. They're Watching You. Peachtree Teen, 2023. 978-1-728-25106-6. 352 p. $17.99. Grades 7-12.
Two weeks ago Polly St. James ran away from the stresses of life at Torrey-Wells Academy, an elite prep school. That's what everyone except Polly's best friend and roommate Maren believes. But things have been different for them this year. Polly was distant and because their last conversation left her with more questions than answers, Maren is determined to uncover why. Despite searching their room and Polly's things for clues multiple times, Maren still doesn't have any answers. Then she finds a hidden invitation to the Gamemaster's Society among Polly's things. Maren knows to uncover the truth about Polly's disappearance she needs to learn more about this rumored society, including how to get an invitation herself. But secret societies are full of rules, and despite its name this one is more than fun and games. Maren has to figure out who she can trust while competing in high-stakes games that have deadly consequences. Will she uncover what happened to Polly (and rescue her), or is Maren the next victim of the game?
THOUGHTS: With a long history of boarding school and secret society books being popular, hand this one to fans of realistic mysteries like The Ivies, Truly Devious, or Looking for Alaska. Recommended for young adult collections.

Mystery