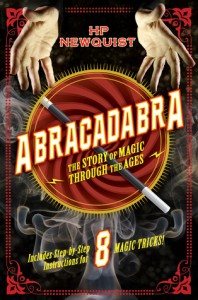 Newquist, H.P.; illustrated by Olga and Alesky Ivanov.  Abracadabra: the Story of Magic Through the Ages.  New York: Henry Holt and Company, 2015.  978-0-312-59321-6. 148p. $18.99.  Gr. 5-8.
H.P. Newquist tells the history of magic in a roughly chronological order, beginning with the ancient Egyptians and ending with modern showmen, superstars Criss Angel and David Blaine.  Each chapter has plentiful illustrations and primary source photographs/diagrams.  The eight different chapters correspond with  different types of magic tricks and each has a text box describing a tool or trick of the trade.  These tools and tricks range from the origin of the word "abracadabra" to a discussion of the lack of well-known female magicians.  Newquist closes out each chapter with an "expose" of a magic trick.  The tricks range from the cup-and-ball trick to the illusion where the magician saws his assistant in half.  Each expose also includes directions for young magicians who might want to duplicate the trick. Thankfully, aspiring magicians are directed to practice with a paper doll, instead of sawing friends and family in half!  THOUGHTS: Abracadabra is an easy-to-read, high interest book that will appeal to a wide range of readers.  There are numerous photographs, illustrations, and diagrams to help break up the slightly less interesting passages on the history of magic.  Readers also get the "inside scoop" on how to perform some famous magic tricks.  This book would be an asset for any library serving pre-teens and young adults.
Abracadabra: the Story of Magic Through the Ages is a fun and informative book.  It is instructive but does not take a textbook approach to its subject.  There are a couple of factors that prevent this from being a high-quality work of nonfiction though.  The Ivanov's illustrations are rudimentary.  The photographs and primary source diagrams add more to the books than the drawings.  The author, who arguably has a thorough knowledge of magic, also does not provide any in-text citations or a bibliography.  There is an appendix at the end of the book, "Research and Recommendations", but this seems to be directing the reader toward additional information and is not a works cited section. Students will probably not care about the book's lack of scholarship.  Abracadabra is interesting and a great read for aspiring magicians.
793.8 Magic Tricks            Susan Fox, Washington Jr./Sr. High School