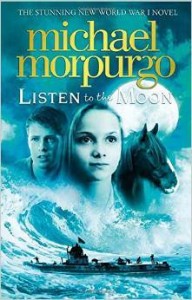 Morpurgo, Michael. Listen to the Moon. New York: Feiwel and Friends, 2016. 978-0-250-04204-0. 341p. $16.99. Gr. 5-8.
Alfie cherishes fishing with his father, and it is during this activity that he hears a faint cry at St. Helen's island. The island houses the "Pest House" where those sick are placed. When they find a girl, whose head is bleeding, they hurry back home. Dr. Crow treats the girl; they believe her name is Lucy.  She is feverish, half starved, and suffering from pneumonia. Later, cousin Dave finds a toy and a blanket with foreign writing. They wonder if Lucy is a Hun but pledge not to discuss this with anyone else, while gossip around town is that the girl might be a mermaid.
Once Dr. Crow brings a gramophone and classical piano music more is revealed regarding Lucy. Her father went to fight the war, and she continued school and piano lessons.  To feel closer to her father, she listened to the moon. Upon receiving a message that he had been injured, she leaves with her mother leaving their posh life in New York City to board a boat to England with hopes of greeting the injured soldiers.  THOUGHTS: The Pest House, Madhouse (where Alfie's twin brother received treatment), and treatment of those with illnesses is a topic of discussion that reading the book can encourage.  The book allows for conversation about acceptance of others regardless of cultural differences. Topics with curriculum tie in include WWI, the Lusitania, U-Boats, and geography.
Historical Fiction (World War I)   Beth McGuire, Wendover Middle School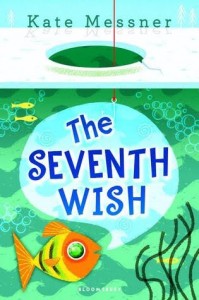 Messner, Kate. The Seventh Wish. New York: Bloomsbury, 2016. 978-1-61963-376-6. 224pgs. $16.99. Gr 4-6.
We wish on candles and stars and ask for things that aren't ours, but what would you do if a fish granted you a wish? That is the premise for Kate Messner's The Seventh Wish, but this book is so much more. Charlie is a girl with joyful ambitions: to be an improving dancer, a loyal friend, and to enjoy her family. Still, as with any teen, she has fears and struggles. The speaking fish that she catches and curiously releases with her first wish begins a series of events and a chain reaction that shows what she cannot control with a simple wish. The profound example of this revolves around her older sister, who gets mixed up in the drug scene at her college and now struggles to overcome her addiction. There are some tense moments- along with many touching, heartfelt and thoughtful scenes – who could wish for more?!  THOUGHTS: This book made headlines recently when Kate Messner had an author visit to a school cancelled because of the drug plotline in the story. I join those who would argue that the book is more essential to include in school discussions because of these themes. Readers can empathize and safely explore through literature, in this case with topics of peer pressure, battling addiction, being a family member of an addict, or exploring values of honesty and friendship. Also, I found that this could be a wonderful text for close reading and using Notice & Note Signposts. Best wishes!
Realistic Fiction; Fantasy    Dustin Brackbill, State College Area School District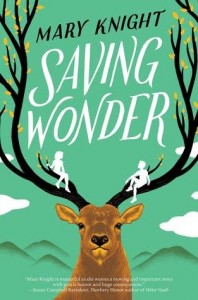 Knight, Mary. Saving Wonder. New York, NY: Scholastic Press, 2016. 978-0-545-828932. 272 pgs. $16.99. Gr 4-8.
Curley Hines knows the power of words thanks to his grandfather and his best friend, but he puts them to the test in Mary Knight's debut novel Saving Wonder. Living in a coal mining town, he has seen his share of tragedy and misfortune, but he loves his mountain and valley. When a new owner comes to take over the industry with his slick son, things start to change. Should they adapt and survive or take a stand and face down Big Coal that threatens everything? Saving Wonder doesn't have easy answers, but it will open your eyes, leave room for debate, educate and inspire.THOUGHTS: This has plenty of classroom and home applications, prompting projects and new vocabulary lessons. I also found that the setting and characters were almost instantly identifiable, meaning that the author did a wonderful job capturing the voice of Curley and company. Saving Wonder is a great debut for Mary Knight, joining the recent ranks of authors like R.J. Palacio and Dan Gemeinhart as new favs!
Realistic Fiction     Dustin Brackbill, State College Area School District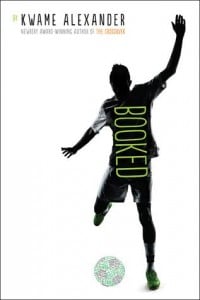 Alexander, Kwame. Booked. New York, NY: Houghton Mifflin Harcourt, 2016. 978-0-544-570986. 314 pgs. $16.99. Gr 5-8.
"Books are fun, Nicholas, he says, they're like amusement parks for readers." Despite the advice of his father, Nick Hall would rather do a lot of things than read the dictionary that his father published, especially play soccer. With a huge national tournament coming up against his best friend's team, things seem to lead toward a sports genre ending; however, obstacles keep getting in Nick's way, including the big fear of his parents splitting up. With a colorful assortment of characters and a lively novel-in-verse format, Kwame Alexander brings Nick's world to life in Booked. It is definitely a fast and fun ride!  THOUGHTS: Booked is similar in style and content to Kwame's award winning Crossover basketball poetry novel. But there are plenty of new concepts and plot twists to keep readers interested whether they are fans of soccer or poetry. The variety of verse, the awesome librarian, and the few lit concepts like malapropisms blend together for an enjoyable middle grade novel.
Realistic Fiction; Sports     Dustin Brackbill, State College Area School District