Telgemeier, Raina. Claudia and Mean Janine. New York: Scholastic, 2016. 978-0-545-88623-9. 162pgs. $24.99. Gr 3-6.
Although Claudia and Janine are sisters, they have nothing in common. Claudia loves art and hanging out with her friends in the Baby-sitters Club. Janine loves school and spends all her free time in her room studying. But when their beloved grandmother, Mimi, suffers a stroke, the family needs to figure out a care plan, and Claudia and Janine discover they have more in common than they originally thought. While Claudia is dealing with this family emergency, the other members of the Baby-sitters Club plan and carry out a summer play group for some of the neighborhood children. There's a bit of friction between Kristy and the club's newest member, Dawn, but the they soon bond over an afternoon of rope swinging in Dawn's barn. THOUGHTS: All the Club members come to life in this book, and this reimagined, full-color volume ensures that Ann M. Martin's original characters and stories will be cherished by a new generation of readers.
Raina Telgemeier's titles are some of the most-circulated graphic novels in my school's collection, and I know this book will be no exception. One bonus feature this book offers is a "Making of the Baby-sitters Club" section at the back of the book. These pages walk readers through step-by-step descriptions of how one of Ann M. Martin's original Baby-sitters Club titles is reinvented in graphic novel format. The section includes behind-the-scenes peeks at Raina's notes and rough drafts, and readers are able to follow the progress from initial idea to finished full-color panel illustration.
Graphic Novel; Realistic        Anne Bozievich, Friendship Elementary School, Southern York County
Doerrfield, Cori. Cici, A Fairy's Tale: Believe Your Eyes. Minneapolis: Graphic Universe, 2016. 978-1-4677-6152-9. 47p. $20.00. Gr. 2-4.
Cici's tenth birthday brings a rather special gift; the discovery that she is actually a fairy! She has one day to decide if she wants to keep her fairy powers, and it's a tough choice. Her first power allows her to see people as they really are, and that's not an easy thing to handle. Luckily, her abuela (also a fairy) is there for support, and Cici realizes that being a fairy has plenty of advantages. The graphic style is very straightforward and would be an excellent choice for a beginning graphic novel reader. The illustrations are colorful and will definitely give you a chuckle. THOUGHTS: While Cici isn't facing any new ground as a growing girl, adding the fairy element gives the story a fun twist and will surely make for lots of excellent adventures in this new series.           
Fantasy; Graphic novel       Lindsey Long, Nye & Conewago Elementary Schools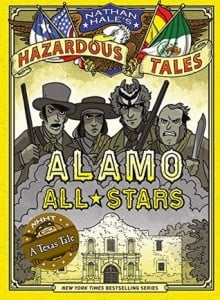 Hale, Nathan. Alamo All-Stars. New York: Amulet Books, 2016. 978-1-4197-1902-8. 122 p. $12.95. Gr. 3-6.
Nathan Hale offers another "hazardous tale" from history, this time the epic tale of the Battle of the Alamo. The land now known as Texas saw lots of fighting between settlers, the Mexican government, and native people in the 1800s, and Hale follows the Alamo all-stars Jim Bowie, Stephen Austin, Davy Crockett, and Vincente Guerrero as they change history. Hale uses his patented combination of interesting history, humor, and colorful characters to keep kids interested and reading. The graphic-style panels are sometimes a bit hard to follow but if your kids are experienced graphic novel readers they will likely have few problems. THOUGHTS: The latest addition to this fantastic series is just as good as the first five—give it to graphic novel fans or any kid who likes a good adventure.
Graphic novel; History       Lindsey Long, Nye & Conewago Elementary Schools