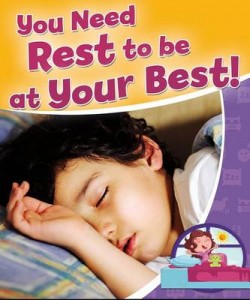 Sjonger, Rebecca. Healthy Habits for a Lifetime series. New York: Crabtree Publishing, 2016. $17.95 each. 24 p. Gr. K-3.
Do Your Bit to Be Physically Fit! 978-0-7787-1879-6.
On a Mission for Good Nutrition! 978-0-7787-1880-2.
Stress Less! A Kid's Guide to Managing Emotions. 978-0-7787-1882-6.
You Need Rest to Beat Your Best! 978-0-7787-1881-9.
This series seeks to help children learn how to lead healthy lives by eating well, exercising, getting enough sleep, and learning how to be emotionally balanced. Each title begins by introducing the topic of the book and why it's important in leading a healthy life. Various aspects of the topic are reviewed.  For example, in "You Need Rest to Be at Your Best!", readers will learn about the sleep cycle and it's five stages, the amount of sleep that they need to be healthy, what happens to our bodies during sleep, and tips for how to get a good night's sleep. The information is easy to read and presented in visually appealing ways, such as giving "Sweet Dreams Tips" in clouds that span the two-page spread. While these topics are not new, this series will be a fresh, updated set to add to your collection if your old set on healthy living is dated. Each title has a Table of Contents, a "Show What You Know!" section with short questions about the book's content, a Learning more section of resources, a glossary, and an index.  THOUGHTS: An attractive collection that provides a fresh look at common topics.         
613 Health, Wellness            Lindsey Long, Nye & Conewago Elementary Schools