Lee, Sungju and Susan McClelland.  Every Falling Star. New York: Amulet Books, 2016.  978-1-4197-2132-8. $16.95. 320p. Gr. 5 and up.
Every Falling Star is the story of Sungju Lee's privileged life as the son of a high ranking army official during North Korean leader, Kim Il-sung's, reign.  Sungju lives in a luxurious apartment, takes Taekwondo lessons at a top school, and dotes on his rare purebred dog.  Shortly after the leader dies, the family's fortunes change under the leadership of Kim Jong-il.   Sungju's father announces that the family will be going on an extended "holiday" near the sea (in reality, his parents were being deported).  North Korea experienced severe famine during the 1990's and each of his parents ultimately left to find food for the family.  With his parents missing, Sungju must fend for himself on the streets.  He forms a "gang" (partnership) with friends from school in order to survive.  Lee's stories of survival are harrowing: violence, substance abuse, constant hunger, and death surround him as he travels from place to place.  Fortunately, Sungju Lee's story ends happily, although he mourns dead and missing friends/family to this day.  THOUGHTS:  Lee wrote this story with Susan McClelland, the author who worked with Mariatu Kamatu to write The Bite of the Mango.  Much of the success of this story can be attributed to McClelland, who edited Sungju's story to make it emotionally affecting without too many "adult" details.  This is an action-packed story that provides a rare inside peek at life in North Korea, and I would purchase it for middle and high school libraries.
Every Falling Star reads like a work of fiction,  The narrative moves along quickly, and the boys in the "gang" lead a life of adventure which would seem fun if it weren't true.  The seven boys in the gang refer to themselves as brothers, and the relationship between the boys is heartfelt.  The fact that Sungju's story is written in an autobiographical format reassures the reader that all ends well for him, but we wonder what has happened to the other people in the story (and how widespread these stories are in North Korea).  This book would be an excellent addition to any study of North Korea or Asia because it helps the reader have empathy for those living under communist regimes.  This book is highly recommended.
950 or 92 (Memoir)        Susan Fox, Washington Park School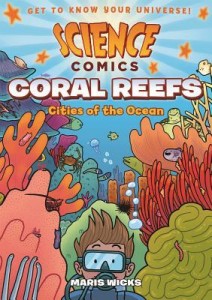 Wicks, Maris. Coral Reefs: Cities of the Ocean. New York: First Second, 2016. 978-1-62672-145-6. $19.99. Gr. 5-8.
Maris Wicks, author of the wonderful Human Body Theater, explores the underwater world of coral reefs in this vibrant, descriptive, and entertaining graphic novel. Readers are guided through the coral reef's vast ecosystem by a small, bespeckled yellow-prawn goby, who covers an array of topics from biodiversity to pollution, making a few corny jokes along the way. Illustrations are extremely detailed, especially when showing plant and aquatic life within the reef. Wicks does an excellent job of making somewhat scary creatures seem friendly; weary readers won't need to shy away. A glossary, list of additional resources, and bibliography are provided and help aid younger readers or those wishing to learn more about coral reefs. This title is part of a broader series, Science Comics, which includes Dinosaurs and Volcanoes, and more volumes to come! THOUGHTS: For anyone looking to expand their nonfiction graphic novel section, this is a great addition that will attract many readers through it's impressive, easy to read text and colorful illustrations.
577 Ecology    Vicki Schwoebel, Friends' Central School
Uncovering the Past: Analyzing Primary Sources. New York: Crabtree, 2016. $31.32 ea. $313.20 set of 10. 48 pp. Gr. 6 and up.
Hyde Natalie. Black Tuesday and the Great Depression. 9780778717089.
Hyde, Natalie. The Cold War and the Cuban Missile Crisis. 9780778725701.
Peppas, Lynn. The Displacement of Native Peoples. 9780778725718.
Peppas, Lynn. Women's Suffrage. 9780778717201.
This eye-catching series offers a fresh spin on both analyzing sources and evaluating pivotal historical events using primary sources specifically. The first half of each book covers the importance of studying history, identifying primary and secondary sources, and analyzing evidence with an eye toward bias and context. The second half delves into the event itself, revisits evidence to explore different viewpoints, and wraps up with modern examples that seem to repeat/parallel history. The timeline and glossary are especially strong components of each volume's back matter. These titles provide a solid middle-grade introduction to identifying, evaluating, and interpreting elements of the historical record: photos, magazine articles, political cartoons, speeches, and more. THOUGHTS: Though not a series students will gravitate to for enjoyment reading, it fills a need in most collections for current, balanced coverage of key historical events. The focus on types and quality of sources distinguishes it from other strong series such as Compass Point's Snapshots in History.
COMMENTARY: Pages 12-13 of The Displacement of Native Peoples discusses evaluating the reliability of both primary and secondary sources. "The best primary or secondary sources," author Lynn Peppas states, "are those created closest tin time to the historical event under consideration." I disagree with her example that posits James Fenimore Cooper's The Last of the Mohicans as a "better secondary source" than Michael Blake's 1988 novel, Dances with Wolves. As a general rule, a secondary source created closer to the time of a historical event may be more reliable, but evaluating fiction in this way (or even using fiction as a historical source) seems ill-advised, especially for young researchers.
900 (various historical topics)    Amy V. Pickett, Ridley High School