Bowe, Julie. Dance Fever. Stone Arch, 2017. 978-1-4965-3819-2. 148p. $19.99. Gr. 4-8.
Victoria Torres is back in another installment of Capstone's Victoria Torres, Unfortunately Average series. In Dance Fever, Victoria is finding her role on her middle school's fundraising committee to be stressful. Annalise (one of the bossiest girls in the school) proposes holding a formal dance to raise funds, but other students want a more relaxed activity. Victoria thinks she's hit upon the perfect compromise: a barn dance with a Wild West theme. When Annalise agrees, it looks like a crisis has been averted. But Annalise has one condition, she wants the event to be a Sadie Hawkins dance. Now Victoria not only has to deal with helping to organize and run the event, she also must try to work up the nerve to ask her crush Drew to the dance! THOUGHTS: This series is fun and humorous, yet incorporates issues/topics relevant to upper elementary and middle school students. The characters in Dance Fever must work together to meet a common goal, compromise in order to reach their goal, deal with obstacles/complications, and even ask someone out for the first time. Overall, a great (and quick) read.
Realistic Fiction       Elizabeth Henry, Lampeter-Strasburg School District
Ruby, Laura. The Shadow Cipher: York (Book 1). New York: Walden Pond Press, 2017. 978-0-0623-0693-7. 496 p. $17.99. Gr. 5-8.
In 1798, the Morningstar twins arrived in New York City and began building impressive buildings with state-of-the-art machines and technology. They then mysteriously disappeared with their assistant, but their legacy left a lasting impact on the city. It was also rumored that the twins hid a vast fortune in the city that could only be discovered by solving the Old Cipher, a cryptic, seemingly unsolvable puzzle.  Over 300 years later, Tess and Theo Bidermann and Jamie Cruz live in an apartment building designed by the Morningstar twins. A real estate developer is determined to demolish the building along with the other Morningstar buildings in the city. Tess, Theo, and Jamie are determined to save their beloved building and are convinced it's their time to solve the Cipher and show the world it's real. THOUGHTS Ruby's middle grade follow-up to the excellent Bone Gap is a fun, adventurous novel with a lot of heart. Give this one to The Mysterious Benedict Society fans.
Mystery     Vicki Schoewbel, Friends' Central School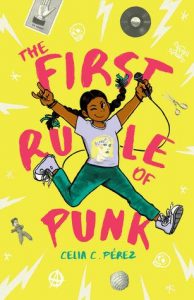 Pérez. Celia C. The First Rule of Punk. Viking, 2017.  978-0-425-29040-8. 310p. $16.99.  Gr. 4-8.
Malu has to move to a new place, but only for two years for her mom's job.   She calls her mom, "Super Mexican" as she tries to get Malu to become more of a senorita.  Malu's parents are divorced and her dad, who is a white record store owner and lover of punk music, won't be coming with them.  Once she gets to Chicago, for the first time in her life, there are other Mexican-Americans around her besides her mom.  In order to deal with all of the changes in her life, Malu makes zines, many of which are sprinkled throughout this book.  Malu does manage to make friends in Chicago and make some music as well.  Malu is a strong character, who still makes mistakes.  At times, this story hits the reader over the head with too much Mexican history and culture at once, but at other times it feels appropriate and flows naturally.  It works best when it is incorporated into one of Malu's zines.  THOUGHTS: If you are looking to add diversity to your collection for this age group, this is a solid purchase.  Any student who feels out of place can relate to Malu.  
Realistic Fiction      Toni Vahlsing, Abington Friends School
Odhiambo, Eucabeth. Auma's Long Run.  Carolrhoda Books, 2017. 978-1-5124-2784-4  298 p.  $17.99  Gr. 5-8.
Auma has been running her whole life.  She lives in Kenya and has pinned her hopes on attending secondary school knowing that her only chance of making it there is via a track scholarship. Auma's dreams don't stop there; instead of marrying young, like so many girls, Auma wants to become a doctor. Compared to many of the families in her small village, Auma lives a comfortable existence with enough to eat, occasional treats, and the tuition money that will allow her to complete primary school and score well on her admittance exams. However, a dark cloud looms over the village as more and more adults start succumbing to a strange new disease that no one wants to talk about. When Auma's beloved Baba (father) comes home from his job in the city not feeling well, Auma's world is turned upside down. Although Auma desperately wants to hold on to her dreams, she is suddenly burdened with the responsibility of supporting and caring for her younger siblings.  Auma starts to learn the truth about the dreaded disease invading her village, AIDS, but there is no cure and little comfort.  Auma's struggle to keep her dream of getting an education and eventually becoming a doctor alive while keeping her family from starving is nothing short of inspirational.  THOUGHTS: While the writing is very straightforward, at times almost pedestrian, the story is vitally important both in terms of its specific setting (1990s in Kenya) and its larger, universal themes.  A valuable addition for middle school libraries.
Realistic Fiction          Maggie Bokelman, Cumberland Valley SD