Owen, Chris and Chris Nixon.  Pandamonia.  Kane Miller Publishing, 2017. 9781610676199. 32 pp. $12.99. Gr. PS-3.
This Australian import is an enjoyable romp through the zoo.  The reader sees and hears about the wild reactions of various zoo animals when a panda is awakened.  The author uses rhyming text to explain the ensuing chaos, and readers meet some unfamiliar animals along the way.  Occasionally the rhyme seems forced and the cadence off-balance.  This book was written to be read aloud, but it lacks a refrain for the listeners to join in.  The illustrations are wild and expressive and are better appreciated by a small group. The panda itself is calm and portrayed in a meditation type pose. Readers only see him just awaking with one eye open and don't find out what he does to create such pandemonium or as the authors put it, "pandamonia." This work is somewhat reminiscent of Klassen's texts.  Thoughts:  Children will find this book enjoyable, especially where zoo stories are popular.  It is an additional purchase for elementary collections.
Picture Book                 Denise Medwick, West Allegheny SD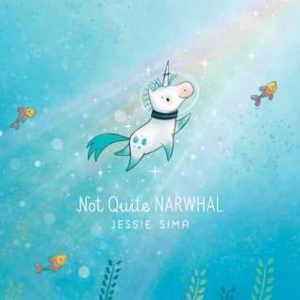 Sima, Jessie. Not Quite Narwhal.  Simon & Schuster Books for Young Readers, 2017. 978-1-48146-909-8. 32 Pages 32. $17.95. Gr. Pre-K and up.
Kelp was born under the sea in a clamshell. He feels he is different from the other narwhals; he can't swim as quickly (thank goodness for water wings), and he is less than enthusiastic about their squid dinners. One day he gets swept away by a current and sees a figure like himself! Pursuing the phantom, Kelp must swim for hours and learn to walk on land which is no easy feat. He eventually finds the unicorns (or land narwhals as he calls them). Kelp loves learning and tasting new things, but will he go back to his narwhal home?  THOUGHTS: I adored this book. It's soft, pastel illustrations are inspiring, and the humor of the storyline and characters are fantastic. Not Quite Narwhal is a fantastic book for any age about acceptance, being yourself, and understanding differences can be good.
Picture Book          Emily Woodward, The Baldwin School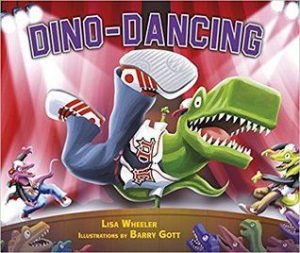 Wheeler, Lisa. Dino-Dancing. Carolrhoda Books, 2017. 978-1-5124-0316-9. Unpaged. $17.99. Gr. K-2.
In the tradition of Wheeler's other fun-filled dinosaur sports books comes Dino-Dancing, a fast-paced twirl through the world of competitive dance. Dino dancers show off moves in various styles including ballet, acrobatic dance, jazz, swing, Latin ballroom, and a particular fierce hip-hop showdown. Wheeler smartly combines dance terminology and diverse dino species, making this book a must-read for both dance and dino lovers. Barry Gott's illustrations are colorful and clever and do a fairly good job of accurately representing different dance moves (those dinos aren't always very limber but they do their best!). Wheeler always teases her next dino sports book at the end, but this one is a bit different…the dino dancers are practicing the Nutcracker ballet because Christmas is coming! Perhaps the dinos are moving into holiday celebrations and away from sports. THOUGHTS: Another fun addition to the dino sports series to be read and enjoyed by long-time dino sports fans or those new to the action.
Picture book                  Lindsey Long, Lower Dauphin SD
Messner, Kate. Rolling Thunder. Scholastic Press, 2017. 978-0-545-47012-4. Unpaged. $17.99. Gr. K-2.
A fresh look at Memorial Day through the eyes of a boy who accompanies his biker grandpa on the Rolling Thunder motorcycle rally in Washington DC. Grandpa rides for those he was with in Vietnam, and the youth rides for his Uncle who is currently enlisted and deployed. After camping out, the pair ride to the Lincoln Memorial and Vietnam Veterans Wall Memorial. The concepts of POWs, MIAs, and death is brought up, but not explained in depth. The poetic verse and pastel pictures provide a powerful, yet appropriate message for young and old alike. THOUGHTS: I got goosebumps when I read this book. It is a good introduction to Memorial Day, and as a read-aloud educators can elaborate about POWs or MIAs as needed. One complaint that has been brought up with this book is the lack of cultural diversity in the illustrations.
Picture Book          Emily Woodward, The Baldwin School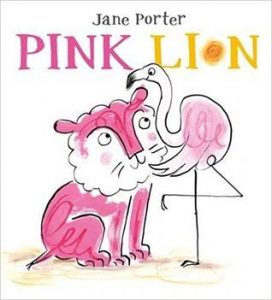 Porter, Jane. Pink Lion. Kane Miller, a division of EDC Publishing, 2017. 978-1-61067-611-3. Unpaged. $19.99. Gr. PreK-1.
Arnold is a pink lion who happily grows up thinking he's a flamingo. When a gang of lions comes by they insist that Arnold is a lion and should come with them. The pink lion isn't a big fan of licking himself clean, hunting, or roaring. But when he tries to go back to his flamingo family a big mean crocodile has moved into the pond. Arnold finds his inner lion and roars to scare the green enemy away. His fellow lions come to join him, and the two species live happily ever after together.  THOUGHTS: A nice book about adoption, acceptance, and families.
Picture Book          Emily Woodward, The Baldwin School