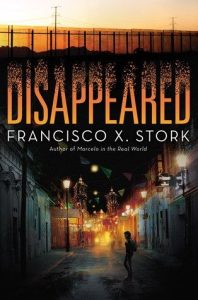 Stork, Francisco X. Disappeared. Arthur A. Levine Books, 2017. 978-0545-944472. $17.99. 326 pp. Gr. 7-12.  
Stork's latest novel shows the effects of secrets, crime, socioeconomics, and morality on journalist Sara Zapata and her brother Emiliano in the harsh "spiderweb" of Ciudad Juarez, Mexico.  Sara is committed to her work and to her weekly column on the "Desaparecidas",the disappeared girls, ostensibly killed or hidden in the sex trade.  Sara and her best friend Linda always followed the safety rules for young women in their town; never travel alone; always tell friends when and where to expect you, and always carry extra taxi fare.  Yet not long ago, Linda became one of the disappeared girls, leaving not a trace.  Sara is relentless but stalled in finding answers and torn when her bosses tell her to stop the column due to an encrypted email threat directed at Sara and her family.  Sara is no fool; she knows that quietly powerful people think nothing of her life and everything of their drug and sex cartels, but she is thrown by the war within her.  Can she live knowing she was the cause of harm to her brother or mother?  Can she live knowing Linda could be alive but enslaved while Sara did nothing?  Dare she continue, when trust is broken at every turn?  Meanwhile, Emiliano is troubled, wanting to prove himself worthy of wealthy Perla Rubi and her lawyer father, Mr. Reyes, and tired of being smart about business but still poor and struggling.  The Reyes' lifestyle is exactly what he wants for himself, his mother, and his sister.  So when he is offered a business boost from Mr. Reyes himself, respectable on the surface, but undermining the community, he, like Sara, is torn.   Stork brilliantly, even softly, portrays their individual anguish in chapters told from their alternating points of view.  Make no mistake people will be hurt.  It Sara's and Emiliano's choices that determine who those people will be: Linda and her family? Perla Rubi? Themselves? Mama? Former or future drug addicts? Where does it the spiderweb end?  THOUGHTS: This is a riveting look at moral determinations when even the monsters have humanity, and humans can become monsters so easily.  "Maybe the bad people look more like the good people" (115).  A fascinating, insightful, and top choice for middle and high school.  
Mystery; Suspense      Melissa Scott, Shenango Area School District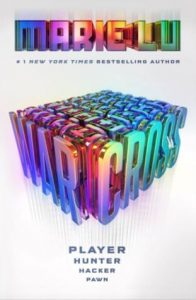 Lu, Marie. Warcross. G.P. Putnam's Sons, 2017. 978-0-3995-4796-6. 368 p. $18.99. Gr. 7-12.
In the future, millions login and play Warcross every day, a virtual reality game that for many is a way of life. Teenager Emika Chen works as a bounty hunter, tracking down players who gamble illegally in the game. During a Warcross championship, Emika takes a risk and hacks the game but accidentally glitches herself into the championship and is seen by everyone watching. Emika is shocked when the young and handsome creator of Warcross, Hideo Tanaka, offers to hire her to look into another hacker who could compromise the future of Warcross. Emika goes undercover and enters the championship as a Wild Card player and discovers someone is planning to sabotage the game. As she digs deeper, she uncovers a vindictive plot that could not only compromise the future of Warcross but could hurt those she loves. THOUGHTS: Marie Lu's newest title should find a niche with fans of Ready Player One, but also appeal to fans of her immensely popular Legend series. Warcross is a smart, thrilling read for older middle school and high school students.
Fantasy      Vicki Schwoebel, Friends' Central School
Lu, Marie. Warcross (Warcross #1). G.P. Putnam's Sons Books for Young Readers, 2017. 978-0-399-54796-6. 320 p. $18.99. Gr. 7 – 12.
Not so distantly in the future, Emika Chen, a struggling teenage hacker, works as a bounty hunter to make ends meet. Recently, she hasn't been doing so well, and Emika is behind on her rent by several months and down to her last few meals. When her newest bounty catch falls through, Emika makes an impulse decision to hack into the Warcross Championships with the plan to steal a valuable power up. When she accidentally glitches into the game and is visible – to millions – Emika catches the attention of Warcross's billionaire creator, Hideo Tanaka. It seems like her problems are about to vanish, as she now has an incredible job offer, but all isn't as it seems, and Emika's success may also be the downfall of Warcross.  THOUGHTS: Marie Lu's newest book will reach a vast group of readers – gamers, dystopian/fantasy/mystery fans, as well as fans of Marie Lu's previous books. This thrilling fast-paced gaming world will have readers anxiously awaiting book two.
Fantasy   Maryalice Bond, South Middleton School District