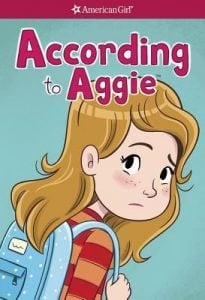 Beaumont, Mary Richards et al. According to Aggie. American Girl Publishing, 2017.  9781683370109. 115 p. $9.99. Gr. 3-5.
This graphic novel tells the story of Aggie Winters Frye, who deals with friendship issues in an elementary school setting.  The story is relevant to any girl who finds that her relationship with a childhood friend is changing.  Aggie's friend Fiona begins avoiding Aggie and no longer wishes to join her on Friday Fun Day after school or go to the Ice-stravaganza.  At first, Aggie believes that she will be "unfriendable", but she eventually becomes friends with a new student.  This is not a new story, but one that is meaningful to the intended audience who will easily relate to Aggie's story. The graphic novel format is very appealing and the characters are from diverse backgrounds.  A short holiday story is included as well and readers can read more about Aggie in the American Girl magazine.  THOUGHTS: While this book is slight, the storyline and format will appeal to elementary students.
Graphic Novel; Realistic Fiction       Denise Medwick, West Allegheny SD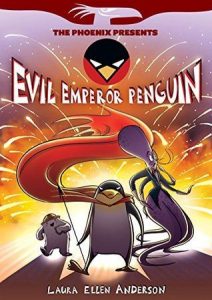 Anderson, Laura Ellen. Evil Emperor Penguin. David Fickling Books, 2017. 978-1-338-13274-8. 64 pp. $8.99. Gr. 2-5.
Evil Emperor Penguin, or EEP for short, is determined to rule the world.  With his sidekick, Number 8, and his minion, Eugene, he quests for world domination, but nothing ever seems to go quite right.  From "freezing" world leaders (but instead knitting them sweaters) to fear gas (that brings EEP images of his mother), nothing goes quite as planned, and everything goes awry when Evil Cat, EEP's archnemesis arrives.  THOUGHTS:  This first book in a new graphic novel series is an elementary crowd pleaser.  Reminiscent of Doofenshmirtz from Phineas and Ferb, EEP is hilarious in his desire for world domination.  This is a fabulous addition to elementary graphic novel collections.
Graphic Novel     Erin Bechdel, Beaver Area SD
Bramucci, Stephen. The Danger Gang and the Pirates of Borneo. Bloomsbury, 2017. 978-1-61963-692-7.  375p. $16.99.  Gr. 4 and up.
Ronald Zupan is a master adventurer, the son of the famous Helen and Francisco Zupan. The only problem is that his parents have not let him come on any of their adventures. On the morning of his 12th birthday, his parents do not appear, and Ronald knows they are in trouble. He teams up with the family butler, the girl who beat him in a fencing tournament, and a pet boa constrictor, to go find them in Borneo. Much adventure ensues.  THOUGHTS: Written mostly in Ronald's bold and exaggerated voice, interspersed with more realistic details from the butler, this tale is quite funny. It seems like it could be an annoying children's book, but all three main characters grow and learn from their experiences. This would be a good book for 4th graders on up who like action, adventure, or funny stories
Action/Adventure; Humor     Toni Vahlsing, Abington Friends School
Gutierrez, Amy. Smarty Marty Steps up Her Game. Cameron Kids, 2017. 978-1944903084. $13.95. Gr. 2-4.
Marty, who loves baseball, is the score-keeper for her younger brother's little-league team. Having taught him all she knows (which is more than most grown-ups) about her favorite sport, Marty is there to cheer him on! At one game the announcer doesn't show up, and Marty has the chance to make her announcing dream come true. Some people don't like the fact that a girl is announcing the game.  What will Marty do? THOUGHTS: This book is written by The San Francisco Giants in-game reporter Amy Gutierrez. The author knows what she's talking about both in terms of baseball lingo, and what it's like to be a woman expert in a male-dominated sport.
Sports              Emily Woodward, The Baldwin School