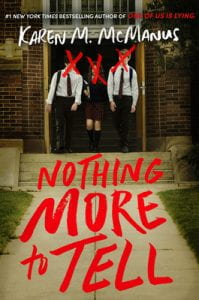 McManus, Karen M. Nothing More to Tell. Delacorte Press, 2022. 978-0-593-17590-3. 356 p. $19.99. Grades 7-12.
After her school newspaper account was hacked, and pornographic pictures posted under her byline, senior Brynn left her Chicago area high school in disgrace while her family relocated back to her hometown of Sturgis, Massachusetts. Her life and her journalistic reputation in tatters, Brynn interviews for an internship with a true crime show, hoping to pad her college applications, as well as to convince the show to research the unsolved murder of Mr. Larkin, her favorite middle school teacher. To her surprise, she is awarded the position, and hooks the show's host with her crime story proposal. Re-enrolled in the private school she attended at the time of the crime, Brynn reconnects with old friends and puts her tenacious investigative reporter skills to work. But Brynn eventually realizes that playing reporter is more than fun and games when it becomes obvious someone does not want her digging up the past. In typical McManus style, the suspense rarely lets up, as the narrative alternates between Brynn and Tripp, her former best friend, and one the students who discovered the body of  Mr. Larkin four years ago. Red herrings abound as the threads of the complex plot slowly coalesce. All four main characters cue white, but minor characters are diverse. 
THOUGHTS: McManus presents a challenging mystery with fine character development. A first purchase where her other books are in demand and mysteries are popular. 
Mystery          Nancy Nadig, Penn Manor SD