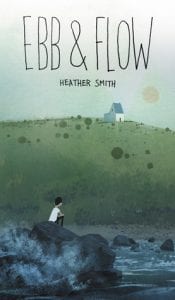 Smith, Heather. Ebb and Flow. Kids Can Press, 2018. 978-1-771-38838-2. 232 p. $10.99. Gr. 5-8 and up.
Last year Jett and his mom moved to a new town for a fresh start, and he struggled to fit in. Against better judgment, Jett became friends with Junior, a troubled boy with a rough home life. Junior likes trouble, and usually Jett goes along with him to seem like a friend. As Junior and Jett become closer, they share details about their lives that no one else knows. Though feelings of guilt plague him at times, Jett likes seeming cool in Junior's eyes.
Now Jett is on his way to spend the summer with his grandmother after a "rotten bad year" (7). Being away from home gives Jett the space he needs to think about what he did and learn some lessons on forgiveness. With his grandmother's regular reassurances, Jett begins to learn the meaning of friendship and forgiveness – of others and of himself. In free verse vignettes, Jett shares his story switching between now and then to give readers a full picture of his life and regrets.
THOUGHTS: Though on the outside it appears to be a traditional book, approachable free verse vignettes fill the pages with Jett's story. Ebb & Flow is an excellent example of character development and providing readers with sparse details as well as text structure. Give this book to a struggling or reluctant reader, a reader who likes a non-traditional structure where the story isn't linear, or read it aloud to a whole class. Upper elementary and middle grade readers will enjoy this story about the choices we make and the true meaning of friendship and forgiveness.
Realistic Fiction          Maryalice Bond, South Middleton SD
---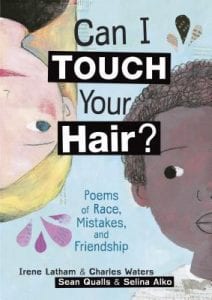 Latham, Irene, and Charles Waters. Can I Touch Your Hair? Poems of Race, Mistakes, and Friendship. Carolrhoda Books, 2018. 978-1-512-40442-5. 39 p. $17.99. Gr. 4 – 7.
I'd like to start with a quote from Elizabeth Bird from her review of this book for School Library Journal:
For a long time… there has been an unspoken understanding amongst white parents that when it comes to race, the less said to children the better… This belief persists, flying in the face of studies that have shown that kids aren't blind… And if you don't offer guidance of any sort to them as they age, then you're allowing the world with all its messages and lessons to do the teaching for you. So children's books… can actually try their hand at confronting race head on in a format for the young. (Feb. 21, 2018)
This book by two authors and two illustrators takes place in a 5th grade classroom. Two students, who the authors based on themselves, are partnered for a poetry project. They make an unlikely pair – one is shy, and the other can't stop talking. In the beginning they decide to each write a poem about shoes, hair, and church. Each voice shares their different views on mistakes that children make when they assume or don't understand, on racial inequality, and on how larger social issues affect their interactions with other children. As a reader, it is an often sad or uncomfortable experience, seeing racial tension through the eyes of children so young. There is subject matter here that should be discussed in school and at home, and "Can I Touch Your Hair?" is a good way to get these conversations started.
THOUGHTS: I think individually, some of these poems would be good for much younger grades. For example, the title poem would be very fitting for 1st-2nd grades. However, the book addresses other heavy topics, such as the "n- word" and police brutality toward African-Americans. Unfortunately, some 7th graders may be deterred by the style of the pictures, which make it look like it may be intended for younger grades, but the subject matter is right on target.
Poetry          Emily Woodward, The Baldwin School
---
Sands, Kevin. Call of the Wraith. New York: Aladdin, 2018. 978-1-534-42847-8. 494 p. $18.99. Gr. 6+.
Christopher Rowe wakes up in an unfamiliar bed, on an unfamiliar farm – with no memory of who he is or how he got there. The family who found him says he was in a shipwreck, stranded in ice, possessed by a demon — and saved by a witch. As Christopher regains his strength and gets his bearings, he learns that strange happenings are occurring around the farm, and local children have been taken by a mysterious specter known as The White Lady. Curious that Sybil O'Malley – the witch who saved his life – may hold some answers, Christopher sets out to question the witch as well as a former witch hunter, Edmund Darcy. Along the way, Christopher reunites with friends Sally and Tom and his trusty apothecary sash. But the mystery of the White Lady and the missing children is much more dangerous than they can imagine. Determined to find and free the missing children and his missing memories, Christopher, Tom, and Sally are once again thrust into an adventure full of puzzles, pirates, and daring rescues.
THOUGHTS: The fourth installment in Sand's The Blackthorn Key series does not disappoint – it may even be the best one yet. This series is engaging for reluctant readers, relatable to tweens, and just a well-written, adventurous series that deserves a place on all library shelves.
Historical Fiction          Vicki Schwoebel, Friends' Central School
---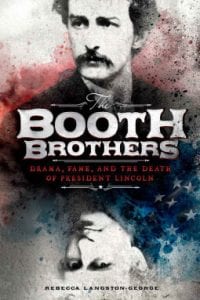 Langston-George, Rebecca. The Booth Brothers: Drama, Fame, and the Death of President Lincoln. Capstone, 2018. 978-1-5157-7338-2. 112 p. $23.49. Gr. 3-7.
Capstone expands their Encounter: Narrative Non-Fiction Stories series with a volume that focuses on the story of brothers Edwin and John Wilkes Booth. Though both were actors, their lives took vastly divergent paths. Edwin became a well-regarded interpreter of Shakespearean works, performing mainly in Northern cities. A supporter of the Union, he counted abolitionists among his friends. John Wilkes was a flamboyant Southern actor, known for his athleticism on stage and a well-known ladies man off stage, as well as an outspoken supporter of the Confederacy. As it became clear that the South would be defeated, John Wilkes, together with a ragtag band of conspirators, began to plot the assassination of President Lincoln. The book opens with a chapter featuring John Wilkes on the run following the assassination and then goes back in time, tracing the childhood and diverging paths of the Booth brothers. Readers will not only learn about the brothers, but also the era in which they lived. The text is supplemented by numerous photos and illustrations.
THOUGHTS: This engaging title will have readers hooked from the opening chapter when they meet John Wilkes Booth cold, injured, and on the run from the authorities following the assassination. The text is enhanced by the inclusion of numerous high-quality photos. Recommended for researchers or history fans.
973.7 American History          Elizabeth Henry, Lampeter-Strasburg SD
---
Buckley, James, Jr. Bonnie and Clyde. Simon & Schuster, 2018. 978-1-4814-9549-3. 147p. $18.99. Gr. 5-7.
This biography focuses on notorious 1930's criminals Bonnie Parker and Clyde Barrow. Readers will learn about the the childhood and family life of both Bonnie and Clyde and the Depression Era in which they were active criminals. Clyde Barrow first began committing petty crimes in his teens. His motivation was likely money. He grew up in a poor family and was not interested in holding down a traditional job. Bonnie Parker also grew up in a poor family. She dreamed of escaping poverty and becoming famous. When the two met, it was seemingly love at first sight. Though Clyde did spend some time in prison, he did not change his ways. Upon parole he was soon planning crimes with some criminal pals. This group became known as the Barrow gang, and Bonnie soon hit the road with them as they traveled the midwest, burglarizing businesses and holding up banks. They occasionally took hostages and when confronted, turned to murder. As their fame increased, pressure from law enforcement became relentless. Eventually, a gang member flipped on them, resulting in the authorities ambushing and killing Bonnie and Clyde.
THOUGHTS: While the text of this book was quite informative and engaging, the book suffers from lack of any photos. This is odd, given that the author stresses how Bonnie and Clyde shot to fame and notoriety in large part due to photos of the pair being published in newspapers. The book would have also benefited from the inclusion of a map, given that the Barrow gang did a great deal of traveling on their crime sprees. That said, readers with an interest in history will likely enjoy this title.
364.15 Crime           Elizabeth Henry, Lampeter-Strasburg SD
---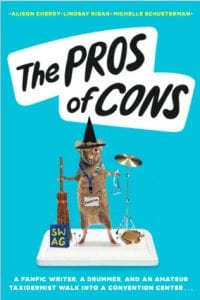 Cherry, Alison, et al. The Pros of Cons. Point, 2018. 978-1-338-15172-5. $18.99. 341 p. Gr. 6+.
Three girls walk into a convention hall. It's not a joke, but it is a rollicking good time. Cassie has come with her father to the taxidermy convention. She has no desire to pursue taxidermy, but quality time with her father is hard to come by, so she attends the convention with the hope of having him notice her. Vanessa is thrilled and excited to be attending the We Treasure Fandom fan-fic convention, not only to improve her writing, but to meet her online girlfriend for the first time. Phoebe is attending the Indoor Percussion Association convention. Throw in a toddler beauty pageant, and you just know chaos will ensue. Nothing goes as planned for any of the girls, but all is not lost.  A mix-up of scalpels and percussion mallets, and crossover interests bring the three girls together when they need it most, forging a supportive friendship that brings about a satisfying conclusion to their convention weekend. This book examines friendship in all its many, confusing forms: when your best friends start dating; when family issues intrude; when two people have differing expectations of a friendship; or when you want to befriend your archenemy. Issues of divorce and sexual identity are also deftly handled, leaving readers with a warm feeling.
THOUGHTS:  A solid purchase for middle school and up, this is a rare book with middle-teen protagonists dealing with appropriate feelings and issues.  
Realistic Fiction          Nancy Nadig, Penn Manor SD
---
Piontek, Victoria. The Spirit of Cattail County. Scholastic, 2018. 978-1-338-16705-4. $16.99. 275 p. Gr. 4-6.
Sparrow Dalton has led an unconventional life in Beulah, Florida. She and her mother lived in the family home on the edge of the swamp, a house many in the town claim is haunted. And maybe it is. Sparrow can see spirits, and her best – and only – friend is Boy, a long dead spirit. But when Sparrow's mama dies, her contented life is disrupted. Now Sparrow lives with cantankerous Aunt Geraldine, who is planning on selling the Dalton family home and moving Sparrow into town. Aunt Geraldine also has high expectations of behavior that Sparrow consistently fails to meet. Sparrow takes solace in Boy, reasoning that if he can be a ghost, so can her mother. Lucky for Sparrow, a chance interaction with some local kids at her mother's funeral leads to, possibly, friendship. Unfortunately, the Castos are not the kind of people Aunt Gertrude finds appropriate, but Sparrow is grateful for their interest in her, and gamely goes along with their plot to find Sparrow's father. This is a delightfully atmospheric book, filled with spirits, cemeteries and dark, creepy swamps. Sparrow's grief is offset by the antics of her new friends, and a delightful teen fortune teller. Sparrow learns how to be a friend, and in the end, learns about Aunt Gertrude's past, and the two work to put their relationship on solid ground.
THOUGHTS:  A solid purchase for middle grade libraries. Strong characters and a creepy setting are sure to make this book a hit.   
Fantasy (Paranormal)          Nancy Nadig, Penn Manor SD
---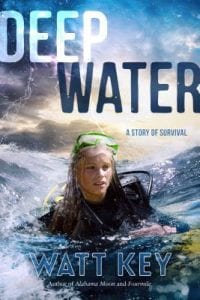 Key, Watt. Deep Water. Farrar, Straus, Giroux, 2018. 978-0-374-30654-0. $16.99. 264 p. Gr. 4-8.
Summers, now that Julie's parents are divorced, mean time with dad, helping him run his dive shop and scuba diving business. When Julie arrives, she notices that her father seems to have let the business slide. So she agrees to go along with her dad when he books a difficult customer for a large fee. But everything about the dive seems off from the very beginning. The obnoxious father and petulant son, whom Julie knows from school, are arguing as they enter the shop, and are less than pleased when Julie's dad decides not to dive because he feels ill, and has 12-year-old Julie guide them  instead. Julie is a competent diver, but feels out of her depth trying to keep the fractious pair safe and adhering to standard dive protocol. The dive quickly falls apart, but the struggles under the water are only the beginning of a life and death adventure for Julie and her clients.
THOUGHTS: Another outstanding action/adventure by the author of Terror at Bottle Creek. Key obviously knows his subject, and complements the breathtaking adventure with lyrical descriptions of diving, and battling Mother Nature.  However, the death of a character is handled somewhat nonchalantly.
Action/Adventure          Nancy Nadig, Penn Manor SD
---
World of Robots. Bellwether Media, 2018. $19.95 ea. $119.70 set of 6. 32 p. Gr. 3-6.
Noll, Elizabeth. Factory Robots. 978-1-626-17687-4.
Noll, Elizabeth. Flying Robots. 978-1-626-17688-1.
Noll, Elizabeth. Medical Robots. 978-1-626-17689-1.
Noll, Elizabeth. Military Robots. 978-1-626-17690-4.
Noll, Elizabeth. Police Robots. 978-1-626-17691-1.
Noll, Elizabeth. Space Robots. 978-1-626-17692-8.
Middle grade students interested in robots will be drawn to this informative set. Each volume opens with a short scenario illustrating the featured robot in action. The ensuing pages provide information about the development and use of the robot, accompanied by copious photographs. Text features include captions, information boxes, table of contents, glossary, index and a To Learn More page, directing readers to other books. However, for internet resources, readers are directed to Factsurfer, the publisher's proprietary search engine. Billed as a safe, secure search engine, searches generally provide three results.  
THOUGHTS: While these books may not provide enough material for researchers, they should be satisfying for pleasure reading.   
670.42, Factory          Nancy Nadig, Penn Manor SD
629.113, Flying
610.285, Medical
623, Military
363.2028, Police
629.8, Space 
---
Puller, J.S. Captain Superlative. Disney-Hyperion, 2018. 978-1-369-00427-5. $16.99. 245 p. Gr. 4-7.
"Captain Superlative! Champion of Deerwood Park Middle School, here to defend honor, justice, and the forces of good!" This was Janey's first sighting of the unknown superhero stalking the halls of her school, dressed in a silver swimsuit, tights and a cape. Captain Superlative prepares study guides, opens doors, and helps lost students. Janey watches with awe, curiosity, and a pulling need to know more about this crazy, yet amazing, student. Janey's superpower is invisibility; she strives to not be noticed, particularly by Dagmar, middle school queen and reigning bully. Janey soon unmasks Captain Superlative, only to be pulled into her orbit as superhero sidekick. As Janey assists Captain Superlative in her many missions each day, she begins to blossom and soon realizes her life is much fuller and happier. But, as astute readers realize from the opening chapter, all is not well with Captain Superlative. This young girl is very ill. When Janey, whose mother died four years ago from cancer, learns her friend is similarly afflicted, she lashes out, feeling betrayed that she opened her heart to her new friend, only to suffer another loss. But as good always triumphs over evil, Janey forges a new path forward to carry on Captain Superlative's mission. While it is unlikely a student would be able run around school in a mask and cape, this book will make you wish they could. Middle school in all its angsty agony is well depicted, from mean girls to trend followers, to uneasy boy-girl relations. Family issues are touched upon, not deeply but with enough substance to make you consider what burdens some students carry.
THOUGHTS:  A must purchase for middle grade and middle school collections. You may know how this book is going to end from the first pages, but the ride is so very joyous. Carry On, Citizens! Good wins out!   
Realistic Fiction          Nancy Nadig, Penn Manor SD