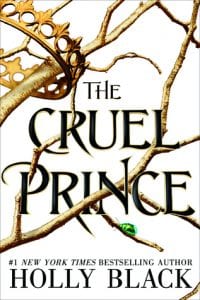 Black, Holly. The Cruel Prince. Little Brown & Co., 2018. 978-0-316-31028-4. 384 p. $19.99. Gr. 8 and up.
Jude has to look into the face of her parents' murderer every day; he's the man who has raised her and her twin sister, Taryn, after forcibly ripping them away from their lives, and bringing them, and their older half-sister, Vivian, to the High Court of Faerie. Jude and Taryn are human, and therefore outsiders, never quite gaining a foothold in the world in which they live. Despite living with Madoc, their parents' killer, and amongst people who openly despise their kind, both Jude and Taryn have no wish to return to the human world; this is their home now, for better or worse, and both want to carve out a life for themselves here. For Jude, who longs to be chosen for knighthood, and who never backs down from a fight, life is made more complicated and dangerous by the increasingly cruel "pranks" and dark obsession of the spoiled and entitled Prince Cardan, the king's youngest son. When Jude becomes romantically involved with one of Cardan's cohorts, and, at the same time, comes to the attention of Prince Dain, who is slated to become the next king of Faerie, Jude must tread even more carefully. Jude is strength and pigheadedness personified, so much so that it can be hard to empathize with Taryn, who often comes across as weak-willed, when really, she is, like Jude, a human, mortal girl who is so far out of her element at times that it's a wonder they both don't run screaming for the hills. There is a lot going on here – multiple characters, various plot lines, world-building, family dynamics – but fortunately, this book is in the very capable hands of Holly Black, who navigates it all with a storyteller's aplomb and attention to detail. We never forget, for instance, that Madoc is not Jude and Taryn's father, but a murderer (made especially more vivid by Vivian's defiance of Madoc at every possible turn), or that Jude and Taryn's very lives are in constant danger, or that the political machinations of the High Court are a tangled web of lies, deceit, and power grabs. In the end, there is no neat and tidy resolution for Jude; indeed, she ends up in even deeper trouble, with much higher stakes, than when she started, which is why readers will eagerly follow her into the next book in the series.
THOUGHTS: Hand this to readers who are both riding the wave of fairy tale retellings, as well as those who are weary of the same stories being retold – this dark, compelling tale will enscorsell all readers.
Fantasy          Lauren Friedman-Way, The Baldwin School
---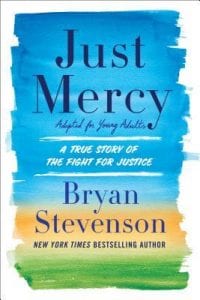 Stevenson, Bryan. Just Mercy, Adapted for Young Adults: A True Story of the Fight for Justice. Delacorte Press, 2018. 978-0-525-58003-4, 244 p. $18.99. Grades 9-12.
Bryan Stevenson has adapted his pivotal 2014 book on America's criminal justice system for teen readers! As with other YA adaptations such as Unbroken and The Boys in the Boat, this version of Just Mercy has a streamlined narrative, fewer pages, and slightly modified vocabulary, broadening its appeal to a younger audience. The overall structure of the book is unchanged, though. Stevenson interweaves the story of Walter McMillian (an Alabama man unjustly sentenced to death for a murder he did not commit) with the stories of other clients on death row, prisoners with intellectual and physical disabilities, and children incarcerated in the adult prison system. Throughout, he shines a light on the pervasive racial bias, discrimination against the poor, and abuses of power that mar our criminal justice system. By portraying the incarcerated as people and not just criminals – and reminding readers that "each of us is more than the worst thing we've ever done" – Stevenson makes a strong case for mercy. Walter McMillian's chapters take the reader through the labyrinthine appeals process, adding suspense as Walter's legal team fights to exonerate a condemned man before the state schedules his execution.
THOUGHTS: In his Acknowledgments, Stevenson writes that he is "honored to share my work with young people, whose understanding of these issues is crucial if we are to create a more just society" (263). He has succeeded in creating an adaptation that is both accessible and appealing to a teen audience. Just Mercy would pair well with fiction from To Kill a Mockingbird to The Hate U Give, as well as nonfiction such as the March trilogy by John Lewis or Season Two of the In the Dark podcast, which covers much of the same thematic territory. It deserves a place in every library for teens.
Stevenson's nonprofit organization, the Equal Justice Initiative, continues to provide legal representation for poor people, challenge wrongful convictions, and fight to end abusive sentences for minors.
340 (Criminal Justice Reform)          Amy V. Pickett, Ridley SD
---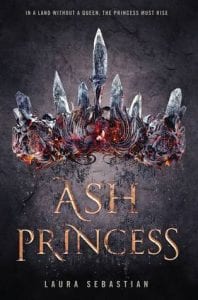 Sebastian, Laura. Ash Princess. New York: Delacorte Press, 2018. 978-1-524-76706-8. 448 p. $18.99. Gr 8-12.
Princess Theodosia is six years old when her kingdom of Astrea is invaded by the Klovaxians and her mother is killed in front of her. The ruthless conqueror, the Kaiser, strips Theodosia of her title and her name, and she becomes Thora, the Ash Princess, and is held like a prisoner. At any hint of rebellion from the Astreans, Thora is publicly ridiculed, tormented, and beaten as a reminder of the Klovaxian's power over Astrea. When her mother's former guardian is brought to trial, Theo learns of an underground movement to free her and restore her to her rightful throne. While the rebellion is small, Theo begins to work from the inside of the palace to undermine the Kaiser. When she connects with the Kaiser's son Soren, she hatches a plan to stoke the already simmering resentment between the king and his son. But Thora soon discovers feelings for Soren, as well as for one of her Astrean allies. Even with some cheesy romance, readers will be cheering for Theodosia to shed Thora and rise from the ashes in this planned trilogy.
THOUGHTS: A fine addition to the other historical fantasy titles cluttering the YA shelves; Sebastian's writing is top-notch and makes this a compulsive read.
Fantasy          Victoria Schwoebel, Friends' Central School
---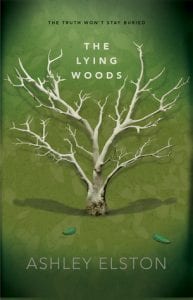 Elston, Ashley. The Lying Woods. Disney-Hyperion, 2018. 978-1-368-01478-6. 336 p. $17.99. Gr. 9 and up.
Hours before his father's embezzlement goes public, Owen's mother gets him from his elite New Orleans boarding school. Forced to leave all of their possessions including their house behind, Owen and his mom move in with her sister, and Owen must adjust to senior year back in Lake Cane. Living among the families whose life savings and retirements were invested in Louisiana Frac (the primary local employer) proves to be more difficult than he imagined. Of course, his father is long gone. Most are suspicious of their involvement or their knowledge of Owen's father's whereabouts, but Owen and his mother are left to deal with the repercussions and threats. Told in alternating chapters Owen's story unfolds over dual narratives from the past and the present. With mystery surrounding his entire life, Owen must look to the past to help guide his future. 
THOUGHTS: Subtle in its mystery, this book is difficult to describe without giving away key details. With dual narratives from different time periods, readers will work the entire novel to puzzle out the story of Owen's life. At times a page-turning mystery and others character driven, this work will have a wide appeal. A must-purchase for high school libraries. 
Realistic Fiction          Maryalice Bond, South Middleton SD