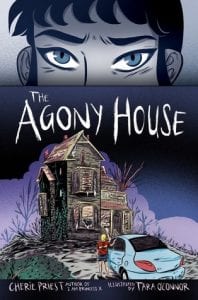 Priest, Cherie, and Tara O'Connor, illustrator. The Agony House. Arthur A. Levine Books, 2018. 978-0-545-93429-9. 256 p. $18.99. Grades 7+.
For Denise Farber, the house at 312 Argonne Street in New Orleans' St. Roch neighborhood is more of an "Agony House." Denise's father and grandmother died during Hurricane Katrina, and for years afterwards she and her mother bounced from one small Texas town to another. Now, with one year of high school left, she's moved back to the area with her mom and stepfather to help fulfill their dream of renovating a fixer-upper into a welcoming bed and breakfast. The Agony House, though, is both dangerously decrepit and definitely haunted. Undeterred by a "primordial funk" emanating from the attic, and with the help of ghost-hunting pal Terry, Denise discovers an unpublished comic book called Lucida Might and the House of Horrors. She begins researching the author's life and whether he perished inside the Agony House. Meanwhile, all-too-real perils echo the novel's storyline; someone — or something — is trying to scare off Denise's family and their home improvements. Illustrator Tara O'Connor contributes Lucida Bright's portion of the story, which are a highlight.
THOUGHTS: This is an excellent, mildly scary selection for readers who enjoy R.L. Stine's Return to Fear Street series. Cherie Priest deftly balances a haunting with the all-too-real presence of white privilege, gentrification, and sexism.
Horror          Amy V. Pickett, Ridley SD
---
The Founders of March For Our Lives. Glimmer of Hope. Razorbill. 2018 978-1-984-93609-0. $18.00. Grade 8 +.
Conversational in tone, Glimmer of Hope is a collection of essays and recollections written by the students involved in the March for Our Lives movement. The survivors of the mass shooting at Marjory Stoneman Douglas High School in Parkland, Florida came together to create a response to the gun violence plaguing the USA. Featured essays written by the famous leaders of movement David Hogg, Emma Gonzalez, Delaney Tarr, Cameron Kaskey, and several others reflect on the events during the day of the shooting and the weeks following as they planned for action. The students provide a timely and inspiring call to action and the book ends with a platform of ten specific reforms with the aim to put sensible gun control legislation into place across the country.  
THOUGHTS: An inspiring read, encouraging readers to take a stand to prevent future tragedy. A recommended purchase for every high school collection.
363.33 Control of Firearms       Nancy Summers Abington SD
---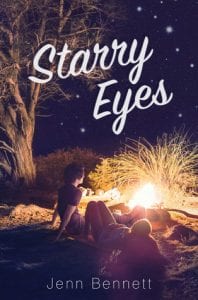 Bennett, Jenn. Starry Eyes. Simon Pulse, 2018. 978-1-481-47880-9. 417 p. $17.99. Gr. 9-12.
It's the summer before senior year, and at her mother's insistence, Zorie agrees to go on a camping trip at a luxurious resort in northern California with her popular friend, Reagan, and some other girls. In an unexpected turn of events, however, she discovers last minute that there will be boys on this trip as well, including her ex-best friend, Lennon, and her crush, Brett. Things take a turn for the worst when the group gets kicked out of the campground, Reagan and Zorie get into a huge fight, and the group ditches Zorie and Lennon in the wilderness. Left alone in the wild, Zorie and Lennon face many obstacles, but perhaps their biggest obstacle is their own unresolved feelings about each other. This beautifully written novel straddles the line between love story and adventure/survival story and would make an excellent addition to any young adult collection.
THOUGHTS: Definitely written for a high school audience, there is some swearing and sex throughout this book. The book also addresses some sensitive subjects, including lesbianism (Lennon has two mothers), homophobia (Zorie's father despises Lennon's mothers) and divorce (Zorie's parents separate when her father cheats on her mother). However, everything is very tastefully written and likely very relatable for many teens. The thrill of wilderness survival adds an exciting backdrop to the story, setting it apart from your everyday love story. This is a must-have for all high school libraries!
Realistic Fiction          Julie Ritter, Montoursville Area SD
---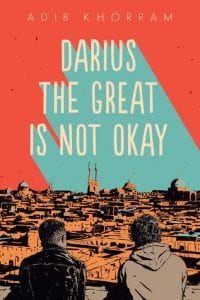 Khorram, Adib. Darius the Great is Not Okay. Razorbill. 2018. 978-0-525-55296-3.  $18.00. Grade 9 +.
Sixteen-year-old Darius is named after the Persian emperor, Darius the Great, but does not feel the greatness within himself. A bit of a loner, he stands apart at school because of his anxiety and depression and his "Fractured Persian" heritage. Darius also feels apart from his own family. His mother, an Iranian immigrant, speaks Farsi with his charming and lovable younger sister Laleh but not with him. His father, a successful architect, has become distant and seemingly disapproving of Darius' behavior, hair style, and lack of social skills. When Darius' grandfather is diagnosed with cancer the family makes an extended visit to the family home in Yazd in Northern Iran. There Darius discovers much about his family, his heritage, and himself. He also finds true friendship with his grandparents' teenaged neighbor, Sohrab, who shows Darius how to live in the moment. An enjoyable read – it is well-written with engaging characters and a thoughtful treatment of clinical depression.
THOUGHTS: The book provides a fascinating glimpse into a culture we do not see often on our shelves, Persian culture with the influence of the Zoroastrian faith, a minority religion in Iran.
Realistic Fiction           Nancy Summers, Abington SD
Sixteen year old tea aficionado Darius doesn't fit into either of his parent's cultures. A seemingly constant disappointment to his father, Darius considers himself a "Fractured Persian" because he isn't wholly Iranian or American. When his grandfather's terminal brain tumor begins to take a turn, Darius and his family head from Portland to Iran, the first trip Darius's mother has made since before he was born. With a limited understanding of Farsi and a clinical depression diagnosis, Darius isn't sure how this trip will be. Flagged by customs upon his entry into Tehran, Darius must explain why he has prescription medicine to a customs officer who thinks the depression is due to Darius's diet (not that he asked for an opinion). Even his grandfather thinks Darius "just [has] to try harder" to be happy. However, Mamou, his loving grandmother, and Sohrab, a friendly peer neighbor, make Darius feel welcome immediately. Though this trip won't last forever, Darius begins to feel like he belongs somewhere for the first time in his life. 
THOUGHTS: This book gives a unique look into the life of someone who struggles with depression and his cultural identity. 
Realistic Fiction           Maryalice Bond, South Middleton SD
---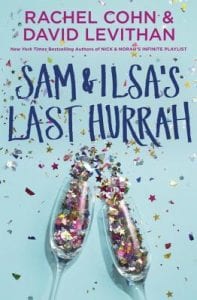 Cohn, Rachel, and David Levithan. Sam and Ilsa's Last Hurrah. Knopf Books for Young Readers, 2018. 978-0-399-55384-4. 211 p. $17.99. Gr. 9 and up.
Though they've lived the same wealthy lifestyle, twins Sam and Ilsa could not be more different. Known for their lavish parties, Sam and Ilsa are ready to host the best party yet and celebrate the end – of high school, of their grandmother's Manhattan apartment, and of not being who they are meant to be (though they don't yet realize this). Told in alternating voices, this duo has a lot to learn about themselves and about each other. 
THOUGHTS: The lifestyle of these siblings (and lack of adult supervision) struck me as somewhat unrealistic. Then again, I've always lived the small town life. An additional high school purchase where multi-narrative books are popular. 
Realistic Fiction           Maryalice Bond, South Middleton SD
---
Cornwell, Betsy. The Forest Queen. Clarion Books, 2018. 978-0-544-8819-7. 296 p. $17.00. Gr. 8+.
Sylvie has led a sheltered life, but that is changing. As their father slowly fades away, her older brother, John, assumes control of the estate, and was recently appointed Sheriff by the king. A cruel individual, John delights in inflicting painful punishments, and Sylvie knows she is also in his sights. However, she is shocked and horrified when he arranges a marriage for her. In a panic, Sylvie finds comfort with her oldest friend, Bird, who works on the estate, eventually deciding to flee her home with him and live in the forest. As the friends begin attracting other refugees, Sylvie faces up to the cost of her privileged life, and makes amends by using her station and family connections to provide for their growing band, as well as the poor residents of the town, soon earning the sobriquet Forest Queen. This lovely twist on the Robin Hood tale is an engaging story. Familiarity with the legend adds to the enjoyment, but the story is captivating without prior knowledge. With many of the roles inverted gender-wise, this book packs a feminist punch. Sylvie is a compelling character, who develops into a forest-wise advocate for her people.
THOUGHTS:  A can't-put-down book with strong female characters, The Forest Queen also touches on many pertinent social issues. A touch of romance adds to the fun.
Fantasy (Fairytale)          Nancy Nadig, Penn Manor SD
---
Marshall, Kate Alice. I Am Still Alive. Viking Books for Young Readers, 2018. 978-0-425-29098-9. 314 p. $17.99. Gr. 9 and up.
Surviving the accident that claimed her mother's life and left her injured and scarred, Jess has to come to terms with her grief and accept her new life. With her father absent for most of her life, Jess thinks she'll be left to finish high school with a friend or a foster family. Instead, she's shipped off to the Canadian wilderness to live with her father. Only reachable by sea plane and forced to live with a father she doesn't know, Jess is angry about her situation. As she adapts to the intense physical requirements of her new home, Jess begins to get to know her father. His secrets and mysterious absence from her life catch up to him though, and Jess must learn how to survive truly on her own. 
THOUGHTS: Though primarily about survival, this novel is so much more. Told in brief before and after chapters, survivor's guilt, grief, loneliness, action, and adventure all take their turn in this fast-paced "will she make it" novel. 
Realistic Fiction          Maryalice Bond, South Middleton SD
---
Lippincott, Rachael. Five Feet Apart. Simon Schuster Books for Young Readers, 2018. 978-1-534-43733-3. 288 p. $18.99. Gr. 7 and up.
Stella is meticulous about managing her cystic fibrosis. Her med cart is impeccable, her treatment routines are precise, and Stella is a rule follower. Combined, this ensures Stella lives. Enter Will. Resentful of the myriad hospitals and fancy trials around the world that his mother has gotten him into, Will just wants to live. Initially drawn together to fix the other's flaw (Stella to help Will see the importance of treatment, and Will to help Stella see the importance of actually living), opposites attract in this sweet romance. Life for these two never really leaves the hospital grounds, and when it does catastrophe can strike. For Will, the sterile air inside no longer seems so limiting, while Stella begins to dream bigger than she thought she could. Where can they really go, though, when they have to be five feet apart. 
THOUGHTS: Though serious in its discussion of a progressive, genetic disease, this sweet romance will appeal to a variety of middle and high school readers. A must-purchase where romance novels are popular. The movie in spring 2019 will also draw in additional readers. 
Realistic Fiction          Maryalice Bond, South Middleton SD