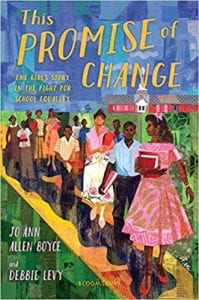 Boyce, Jo Ann Allen, and Debbie Levy. This Promise of Change. Bloomsbury, 2019.  978-1-681-19852-1.  310 p.  $17.99  Grades 4-8.
Jo Ann Allen Boyce, one of the "Clinton 12" African-American teens who enrolled in an all-White Tennessee high school after the landmark 1954 Brown v. Board of Education ruling, tells the story of her not-so-long-ago youth in this powerful nonfiction middle grade verse memoir co-written by Debbie Levy (I Dissent, 2017). The book features free verse as well as a variety of more formal poems, each well suited to the subject matter. For example, the villanelle, with its repeated phrasings, is perfect for expressing the way Jo Ann's thoughts circle around as she ruminates about her first day in her soon-to-be integrated school in "The Night Before." Boyce's story focuses on the half-year she attended Clinton High School, which began relatively peacefully but quickly erupted into violence. Jo Ann's optimism and courage in the face of hatred, and her conviction that prejudice is learned and can be unlearned, is at the heart of this moving book. Brief quotes from primary source material are sprinkled throughout the book. There is extensive backmatter, including information on the poetic forms used, a timeline, photographs, information on the collaborative writing process, and further reading.
THOUGHTS: This unusual book is standout nonfiction, a must-purchase for middle school and upper elementary libraries. Librarians will need to give some thought as to how they will catalog this important book and market it to teachers and young people, as it reads like a beautifully crafted verse novel but is scrupulously researched and written to the standards expected of a first-rate nonfiction title.
379.2 Civil Rights; Poetry          Maggie Bokelman, Cumberland Valley SD
---
Watson, Cristy. Room 555. Orca Book Publishers, 2019. 978-1-459-82060-9. $9.95. 116 p. Grades 7-9.
This book is about Mary's love of hip-hop dancing and the extreme guilt and fear she feels due to her inability to visit her beloved grandmother in the nursing home. Mary, who goes by the nickname her Gram gave her – Roonie, spends most of the book practicing for a school-wide dance competition with her best friend, Kira. Also, their high school requires everyone to log community volunteer hours in order to graduate and Roonie is hoping to get assigned to do clerical work at the local dance school but because she was late handing in the paperwork, she was assigned to volunteer at the local hospital instead. Roonie is devastated about her volunteer assignment but she tries to make the best of it until she finds out she must work on the geriatric floor handing out magazines. The sights, smells, and sounds remind her of the nursing home Gram is in. Although she has severe anxiety, Roonie forces herself to follow through with the job and ends up meeting, Jasmine, the friendly woman in Room 555. Roonie learns that Jasmine belly dances, and they form a connection over their love of dance that gives Roonie the courage to keep returning to her assignment at the hospital. Roonie and Jasmine build a friendship over the next few weeks, and they help each other through some of life's difficult challenges.  
THOUGHTS: This small book is a good addition to a middle school library's high-low collection, and Roonie's love of hip-hop dance may entice students with the same interest to read it.
Realistic Fiction          Bridget Fox, Central Bucks SD
---
Craft, Jerry. New Kid. HarperCollins, 2019. 978-0-062-69120-0. $21.99. 256 p. Grades 5-9.
Jordan Banks, an African American seventh grader, begins this graphic novel at his prestigious new school, Riverdale Academy Day School, or RAD for short, even though he'd prefer to be going to a high school that was art focused. His parents (mom especially) think that Jordan's intelligence would be better addressed at RAD and are excited that he got accepted. Jordan and his father are concerned about the lack of diversity in the student body, and Jordan is anxious about making friends with students who are wealthier than him. Jordan's father promises him they will revisit the idea of art school in 9th grade if he really feels like he can't fit in at RAD. His fears come true when on his first day a classmate's father shows up at Jordan's apartment in an expensive car that looks out of place in the neighborhood. Jordan ducks down in the seat so his neighborhood friends don't see him. The story portrays Jordan's struggles with fitting in while remaining true to himself, and it does a great job of showing all of the microaggressions people of color face on a daily basis. This book makes us reflect on our preconceived ideas of race; even Jordan assumes he will immediately become friends with the handful of other African American students. There are black-and-white double-spread images of helpful life lessons that Jordan has illustrated; things like, tips for riding a city bus in a hoodie, how to do a good handshake, and judging kids by the covers of the books they read.
THOUGHTS: This is the perfect book to give to students who claim they don't like graphic novels. I laughed-out-loud at one of the images because it was so clever. In the same vein as American Born Chinese, this book is a valuable resource for sharing what African American students experience in school and society in a non-preachy, funny way.
Graphic Novel          Bridget Fox, Central Bucks SD
Jordan Banks loves sketching cartoons of his life and dreams of art school, but for his seventh grade year, his parents have enrolled him in a well-known private school, hoping for academic opportunities and social growth (since Jordan is one of the few students of color). Jordan's dad maintains that Jordan may choose art school in a year or two, but Jordan's mom is convinced that Riverdale Academy Day School is the best choice. Jordan complies, and discovers stereotypes (others and his own), endures microaggression–and even finds a way to laugh at them with new friend Drew, builds a variety of friendships (of many cultures), and keeps drawing his story. The tale of his first year is full of pathos and at times laugh-out-loud humor, as Jordan tackles soccer for the first time, considers the "meaning" of secret Santa gifts, and more. He reaches a breaking point when Drew is falsely accused of hitting bigoted student Andy, and when Mrs. Rawle (who consistently mixes up the names of all of the non-white kids) reads his sketchbook and wonders why he is so "angry." Jordan brings to mind all the advice of his parents, grandfather, and more as he adjusts and thrives at Riverdale Academy. He and his friends bring out the best in each other and grow up, a day at a time (well, except for Andy).
THOUGHTS: Jordan is one of the most honest, likable characters in middle school fiction. Many will benefit from reading his story and have their eyes opened to microaggressions, stereotypes, and how to move beyond false assumptions. This graphic novel is a work of art in more ways than one, and a must-read for all middle school students and their teachers.       
Graphic Novel          Melissa Scott, Shenango Area SD
---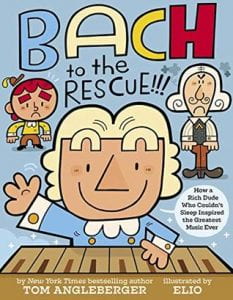 Angleberger, Tom. Bach to the Rescue!!! How a Rich Dude Who Couldn't Sleep Inspired the Greatest Music Ever. Abrams Books for Young Readers. 2019. 978-1-419-73164-8. $17.99. Grades 5-8.
This book is centered around how Bach's music came to be. Learning about the life of the Rich Dude and his inability to sleep at night transforms Bach's Goldberg Variations. A story that may not be completely true, we learn how Goldberg was unable to put the Rich Dude to sleep with his music, which in turn kept everyone else awake. Promised a great deal of money, Bach wrote music for Goldberg to play for the Rich Dude, who loved the music and was able to sleep. Bach, in return, received the money he was promised.
THOUGHTS: An interesting tale, that while may not be true, depicts the possible creation of Bach's Goldberg Variations in a picture book format that is easy for students to understand.
786 Music          Rachel Burkhouse, Otto-Eldred SD
---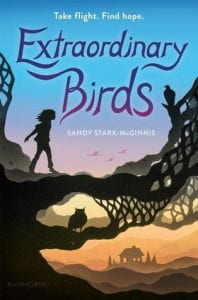 McGinnis, Sandy Stark. Extraordinary Birds. Bloomsbury Children's Books, 2019. 978-1-547-60100-4. 214 p. $16.99. Grades 5-8.
This debut novel features an eleven year old foster child, December, who believes she will one day become a bird and fly away from the foster homes that have caged her spirit. After December jumps out of a tree, she is removed from her foster home and placed with an elderly woman named Eleanor, also called the "Bird Whisperer." December continues to feel her scar tingle and goosebumps that will turn into feathers during her stay with Eleanor while also discovering the perfect oak tree for "flying." Eleanor treats December well, and allows her to help at a bird rehabilitation center with Henrietta, a red tailed hawk who cannot fly. But December encounters trouble at her new school – mean girls who pick on those who are different than them. December befriends one of their victims, Cheryllynn, and the two become close friends. December continues to discover who she really is, but when bad news is delivered to Eleanor, December decides that she must turn into a bird… and fast!
THOUGHTS: A great coming of age story of a girl discovering who she really is that will warm your heart. The characters are relatable, and the story moves along quickly. Multiple themes are prevalent throughout, along with a subtle reference to a transgender child. 
Realistic Fiction          Jillian Gasper, Northwestern Lehigh SD
---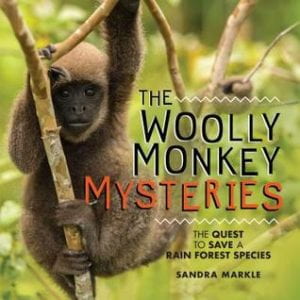 Markle, Sandra. The Woolly Monkey Mysteries: The Quest to Save a Rain Forest Species. Millbrook Press, 2019. 978-1-512-45868-8. $24.14 40 p. Grades 3-6.
If you haven't heard of woolly monkeys, you're not alone.  These rain forest "gardeners" are both elusive and essential to the life of the rain forest. Scientists in Peru's Manu National Park and Reserve must work tirelessly to track them, painstakingly setting up cameras in the deepest parts of the forest. Author Markle investigates several of these scientists, what they've learned about woolly monkeys, and how they've learned it. The results have built a stronger understanding of rain forest life and how rain forests could best be strengthened and preserved. "The rain forest's health is tied to the woolly monkeys, who have to eat, travel through the rain forest canopy, and drop their seed-filled waste to continually replenish the plant life" (35). Markle's text, combined with the colorful page spreads and color photos, brings the scientists' concerns to life for all of us new to the species. 
THOUGHTS: Well-presented with maps, photographs, and explanations of the scientists' work, this book will fuel career ideas of science-minded students who love animals.  
599.8 Monkeys          Melissa Scott, Shenango Area SD
---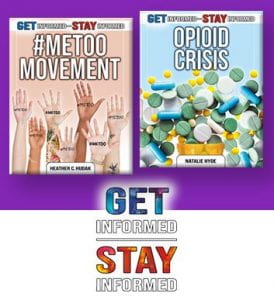 Get Informed–Stay Informed (series). Crabtree, 2019. 48 p. $9.95 (paper) $14.86 (hardcover) ea. Grades 5-8.
Hudak, Heather C. #MeToo Movement. 978-0-778-74971-4
—. Climate Change. 978-0-778-74970-7
—. Digital Data Security. 978-0-778-75345-2
—. Immigration and Refugees. 978-0-778-75347-6
Hyde, Natalie. Gun Violence.  978-0-778-75346-9
—. Net Neutrality. 978-0-778-74972-1
—. Oil and Pipelines. 978-0-778-75348-3
—. Opioid Crisis. 978-0-778-74973-8
These books are designed to be informative on their stated topic, while also guiding the reader to understanding information literacy truths. The information literacy instruction is interspersed with the background on the topic, either in entire chapters or in brief sidebars. Because Hudak's Immigration & Refugees dedicates more space to the information literacy skills, it better prepares the reader to seek out and evaluate information sources. Segments such as "Where to Look" and "Critical Review" establish strong questions to consider when faced with new material. Hyde's Oil and Pipelines, despite speaking of alternate viewpoints (such as the government), strongly emphasizes the disadvantages of pipelines (even the cover, which shows an oil spill).  
THOUGHTS: Overall, these are helpful sources for beginning background on a topic, but more importantly, for instruction on how to think about information and ideas. Includes Glossary, Source Notes, Find Out More, Index, and Teacher's Guide online.  Teaching Resources available for download via Follett's Titlewave for certain titles, including Climate Change, #MeTooMovement, Net Neutrality and Opioid Crisis. 
Titles Reviewed: Immigration and Refugees; Oil and Pipelines. 
Current Social Issues          Melissa Scott, Shenango Area SD
---
Gemeinhart, Dan. The Remarkable Journey of Coyote Sunrise. Henry Holt & Company, 2019. 344 p. $16.99. 978-1-250-19670-5  Grades 3-6.
Five years ago, Coyote Sunrise and Rodeo (don't call him Dad), refurbished a bus as a home and began their travels. It is Rodeo's way of outrunning the memories of his wife and two daughters who died in a car crash. Coyote and her dad get along well, and she knows how to read him and how to behave (avoid melancholy, avoid memories, avoid the names of her mom and sisters). The love Coyote has for her dad is real and reciprocated. Then in a weekly phone call to her Grandma, Coyote learns that the public park in her old neighborhood is to be demolished. It's the same public park where five days before the accident, she, her mom and two sisters buried a memory box and vowed to locate it in ten years. Suddenly, her need to save that box–and her need for memories–outweighs all else. She must use all her cleverness to get 3600 miles (from Florida to Poplin Springs, Washington) in just four days–without revealing the plan to Rodeo. Along the way, Coyote and Rodeo pick up others who need a ride: Lester who's reconnecting with his girlfriend, Salvador and his mom who are looking for a new life with his aunt, Val who cannot stay with her family any longer, and Gladys….the goat. Yes, each has a part to play in Coyote's would-be return home. As the hours–then minutes–count down, how long will it be before Rodeo puts the brakes on this terrifying idea of returning home?
THOUGHTS: A cleverly introspective and appropriately humorous look at grief, family, friendship, and belonging.     
Realistic Fiction          Melissa Scott, Shenango Area SD
For the past five years, twelve-year-old Coyote and her dad, Rodeo, have spent their days criss-crossing the country on an old school bus they've converted into a home. They travel anywhere their hearts desire – anywhere but to their hometown in Washington state. They haven't returned home since the car accident that killed Coyote's mother and two sisters five years ago. But, when Coyote learns from her grandmother that a park in her hometown is going to be demolished, she concocts a plan to get back home to retrieve a memory box she buried there with her mother and sisters before their deaths. Returning home is a "no-go" for Rodeo, so Coyote must figure out a way to get him to drive to Washington without realizing what he's doing. On their journey, they pick up several passengers, including a mother and son escaping from domestic abuse, a musician looking for love, a teen fleeing a turbulent home life, a gray kitten, and a goat.
THOUGHTS: Coyote is a relatable and perceptive protagonist, and readers will be drawn in by her conversational style of storytelling. She is also multifaceted, and she is unafraid to share her true emotions. Readers will cheer Coyote on as she races the clock to get across the country to reclaim a piece of her past before the bulldozers bury it forever. This title will generate discussions about friendships, grief and loss, and the true meaning of family.
Realistic Fiction          Anne Bozievich, Southern York County SD
---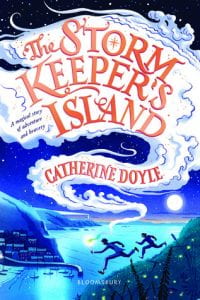 Doyle, Catherine. The Storm Keeper's Island. Bloomsbury Children's Books, 2019. 308 p. $16.99. 978-1-681-19959-7. Grades 5-8.
Fionn Boyle should feel the sea, should have the ocean behind his eyes, but instead he fears it. Even the motion of the boat that delivers him and his older sister Tara to Arranmore Island makes him ill, a fact that Tara is happy to broadcast. Tara has been to the island before, so only Fionn is stunned to meet their grandfather, a curious, eccentric old man that locals refer to as "the Stormkeeper." Fionn is about to realize the part his family–one of five families–plays in the history of the island. Each generation, Arranmore Island itself (a living thing that responds to Fionn's presence by growing, breathing, even speaking to him) chooses a new Storm Keeper. Tara's "boyfriend" Bartley Beasley has been primed by his grandmother to become the Storm Keeper by any means necessary, since she believes Fionn's grandfather actively cheated her out of the power. Bartley seethes with anger at Fionn and his grandfather, even as the dark magic of Morrigan is waking to lay claim to the island and fight the good forces of Dagda, who saved the island eons ago. Fionn struggles with the loss of his father, before Fionn was born, to the sea itself–all Fionn has ever wanted was for his father to be here. The longing is so great, and greater on the island in the face of his father's bravery. Before his grandfather succumbs to memory loss, he is able to guide Fionn to see his own history and accept his future as the new Stormkeeper. The novel ends just as the island has chosen Fionn and Morrigan begins her desperate rise against the island and its people. "It's not fair," Fionn says of his grandfather's memory loss, and his grandfather does not dispute it. But he adds, "your greatest responsibility [is] to live a life of breathless wonder, so that when it begins to fade from you, you will feel the shadow of its happiness still inside you and the blissful sense that you laughed the loudest, loved the deepest, and lived fearlessly, even as the specifics of it all melt away" (248). 
THOUGHTS: This is an enjoyable fantasy that interweaves naturally with reality and will push readers to grab the sequel: The Lost Time Warriors (2020). Strongly recommended for fantasy readers.
Fantasy          Melissa Scott, Shenango Area SD
---
Mortensen, Lori. Today's Hip-Hop. Capstone, 2019. 978-1-543-55444-1. $21.49. 32 p. Grades 3-9.
The book includes Hip-Hop, popping, locking, free styling, and fusion. The content is divided into chapters, and vocabulary words are in bold font defined on the page and also in the glossary. Cool facts intersect in boxes like the style in Hamilton Broadway show. Colorful images add to the text and demonstrate different dance moves such as the jackhammer. 
THOUGHTS: Additional books in the Dance Today series include Today's Ballet, Today's Street Dance, and Today's Tap Dancing. This books could add to an area of interest to many students that may be lacking in collections. 
793 Dance          Beth McGuire, Hempfield Area SD
---
Lyon, Drew. Pro Baseball's All-Time Greatest Comebacks. Capstone, 2019. 978-1-543-55436-6. $21.49. 32 p. Grades 3-9.
Full color images throughout concise chapters allow readers to learn about numerous athletic feats such as the 2004 Boston Red Sox, 2016 Chicago Cubs, and standout players such as Ted Williams. Important terms are placed in red font and defined at the bottom of the page. Terms include comeback, RBI, walk-off, pennant, ligament, and are also included in the glossary. Students can continue to explore at facthound.com using a password included in the book.
THOUGHTS: Other books in the All-Time Greatest Comebacks series include Pro-Hockey, Pro-Football, and Pro-Basketball. The series covers a wide range of sports and demonstrates the importance of optimism and never giving up. These are also great books to have in the collection that encourage recreational reading. 
796 Sports          Beth McGuire, Hempfield Area SD
---
Terrell, Brandon. A Win for Women: Billie Jean King Takes Down Bobby Riggs. Illustrated by Eduardo Garcia. Capstone, 2019. 978-1-543-54219-6. $23.49. 32 p. Gr. 3-9. 
This book relates the lasting friendship between Billie Jean King and Bobby Riggs after their 1973 historic tennis match and is told in a full color graphic novel format. The battle of sexes and gender roles was put to the test and the full color graphic novel details this appropriately. The book includes the legacies of the athletes. A glossary, additional reading, critical thinking questions, Fact Hound internet site links, and an index is included. 
THOUGHTS: Other books in this Greatest moments in sports graphic library series include Defying Hitler: Jesse Owens' Olympic Triumph, Lake Placid Miracle: When U.S. Hockey Stunned the World, Showdown in Manila: Ali and Frazier's Epic Final Fight, Calling His Shot: Babe Ruth's Legendary Home Run, and Soccer Shocker: U.S. Women's Stunning 1999 World Cup Win. These books demonstrate the impact that sports can have on world events and social issues. They can be used to encourage sports enthusiasts to learn more about history and history enthusiasts to learn about the impact that sports have made. 
Graphic Novel          Beth McGuire, Hempfield Area SD
---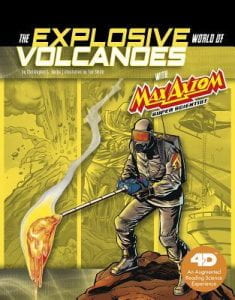 Harbo, Christopher L. The Explosive World of Volcanoes. Illustrated by Tod Smith. Capstone, 2019. 978-1-543-52947-0. $25.99. 32 p. Grades 3-9. 
Readers are in for a fact filled graphic novel adventure with Max Axiom that includes cones, calderas, and eruptions of volcanoes. Artwork is in full color format. Back matter includes additional facts about volcanoes, a lava flow experiment with detailed steps, discussion questions, writing prompts, glossary, further readings, "super-cool stuff," and an index.
THOUGHTS: This is part of the new 4D adventures with Max Axiom. 4D content includes videos of lava flow in Hawaii, ruins of Herculaneum, video direction for the lava flow experiment, and a quiz. These additions do enhance the reading experience and can be used in anticipatory sets with students to add additional excitement. Presently there are 24 titles in the series. 
Graphic Novel          Beth McGuire, Hempfield Area SD
---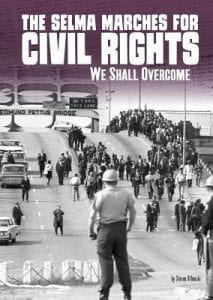 Otfinoski, Steven. The Selma Marches for Civil Rights We Shall Overcome. Capstone, 2019. 978-1-515-77941-4. $24.49. 112 p. Grades 5-9.
Important individuals involved with the Selma Marches for Civil Rights taking place in 1965 have their name in a purple banner with their location and time. Featured individuals include: Geroge Wallace, Lyndon Johnson, John Lewis, Martin Luther King Jr., Coretta Scott King, Ralph Abernathy, Jim Clark, Lynda Blackmon, Frank Johnson, Viola Liuzzo, and Leroy Moton. The events feel like they are unfolding as you read. Backmatter includes an afterward leading up with milestones for each featured individual, a timeline, a glossary, critical thinking questions, internet sites, resources, and an index.

THOUGHTS: This book is part of the Tangled History set that currently includes 24 titles. The series presents vital events in history presented in an engaging and organized fashion. Most of the primary and individual photographs in this book are in crispy black and white colors. 
393 Social Issues          Beth McGuire, Hempfield Area SD
---
Schwartz, Ella. Can You Crack the Code? A  Fascinating History of Ciphers and Cryptography. Illustrated by Lily Williams. Bloomsbury, 2019. 978-1-681-19514-8. $21.99. 118 p. Grades 4-9.
The book introduces readers to the start of codes and ciphers leading all the way to the 2015 hack using malware known as a Trojan Horse. Illustrations, images, and special features add to the chapters. Ciphers and codes have been used by a wide range of individuals from Julius Caesar, to professional football players, classic fictional characters like Sherlock Holmes, and in Edgar Allan Poe's story "The Gold-Bug." Important terms are place ind a bold font. A bibliography, acknowledgements, and an index conclude the book.

THOUGHTS: The book provides a lot of opportunities for readers to practice the codes that they learn about when reading. A lot of history is included when learning about codes. The book has connections to history, social studies, math, and computer science. 
652 Games and Activities          Beth McGuire, Hempfield Area SD
---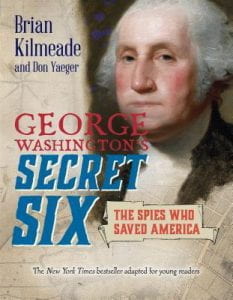 Kilmeade, Brian, and Don Yaeger. George Washington's Secret Six: the Spies Who Saved America. Viking, 2019. 978-0-425-28898-6. $17.99. 164 p. Gr. 4-9. 
Concise chapters with black and white illustrations make up this adapted version for young readers based off of the NYT bestselling book. Readers step into the conflicts facing the goal of American independence that Washington and the Patriots seek. While students will recognize the exquisite leadership skills of Washington, they may be unaware of the importance that intelligence from spies helped inform his choices. In addition, the great dangers that spies faced is detailed in the book. The "Secret Six" is also referred to as Culpher's Ring. The book includes an afterword, appendixes that includes the pre-war lives of the spies and invisible ink, a detailed timeline, selected sources, and an index.
THOUGHTS: Can You Crack the Code? Is an excellent non-book to partner with this book, which is also featured in PSLA reviews. There are also fine fiction books to add to make a must visit display such as Code Talker: A Novel about the Navajo Marines of World War Two by Joseph Bruchac, The Secret Coders series by Gene Luen Yang, or The Book Scavenger series by Jennifer Chambliss Bertman.                                                                                                    
973.4 United States History          Beth McGuire, Hempfield Area SD
---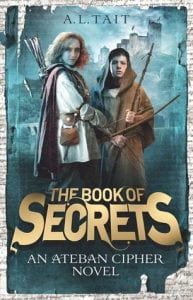 Tait, A.L. The Book of Secrets: An Ateban Cipher Novel. Kane Miller, 2019. 978-1-610-67827-8. $5.99. 248 p. Grades 4-8. 
Growing up as an orphan and taken care of at the monastery, Gabe has yet to leave the grounds. He feels that he has no choice but to leave when an injured man gives him a fancy book to keep secret and deliver to a persona that he has never heard of named Aiden. He has an hour to hide the manuscript, but this does not go as planned. He is helped by outlaws, but Gabe does not expect the outlaws to be women. How can Gabe repay the outlaws and also save the book from possible sinister intentions from leaders visiting the monastery? The adventure will continue with The Book of Answers.
THOUGHTS: This is the first American edition since the 2017 publication in Australia and New Zealand. The series would be perfect for fans of The False Prince series by Jennifer A. Nielsen or Rowan Hood by Nancy Springer. 
Adventure          Beth McGuire, Hempfield Area SD
---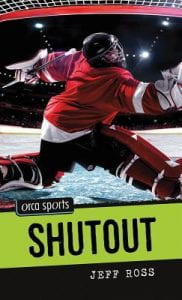 Ross, Jeff. Shutout.  Orca Books, 2019. 978-1-459-81876-7. $9.95. 148 p. Grades 7-12.
Alex is a skilled goalie for the hockey team. Chloe, his girlfriend, is very involved with art and acting, but attends his games. Alex is shocked when the principal wants to see him and believes that Alex is defacing the school with graffiti. The readers know that Alex is not behind the acts, but how can he prove his innocence for his reputation and chance to play hockey? 
THOUGHTS: This fast-paced mystery would also delight readers that enjoy sports or theater arts. There are currently 54 novels in the Orca Sports collection. Presently the teacher guide for this novel is not posted online at Orca Sports, but you could introduce the author using his website: http://www.jeffrossbooks.com/
Mystery          Beth McGuire, Hempfield Area SD
---
Skrypuch, Marsha Forchuk. Stolen Girl. Scholastic, 2019. 978-1-338-23304-9. $17.99. 208 p.Gr 3-8. 
What if you were unsure of your childhood and had memories of being with members of the Nazi organization? You've moved to a new area with your adoptive parents, and children tease you for having blonde hair and blue eyes? What is the truth of your history? This is the struggle that Nadia faces and will finally uncover her past.
THOUGHTS: This book is powerful. The backmatter shares additional information from this time period and experiences from the family of the author. Scholastic included a book trailer for this book in the Spring 2019 fair, and the link to the video will draw interest as well: https://www.youtube.com/watch?v=mRWYmfeevWU
Historical Fiction          Beth McGuire, Hempfield Area SD
---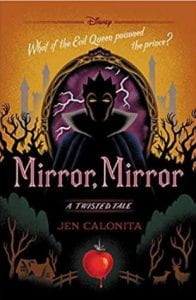 Calonita, Jen. Mirror, Mirror: A Twisted Tale. Disney Press, 2019. 978-136801383-3. $17.99. 344 p. Grades 5-9. 
A lovely princess makes the best of times despite the loss of both of her parents and being shuttered from the world by a mean step-mother. The princess is lucky to escape death and find the home of the miners. Danger comes in the form of a poison apple. This is a pretty familiar fairy tale for students. Some of the parts are familiar, but not most in Mirror, Mirror. In the new novel, the king is distraught over the loss of his wife, married his wife's sister, and then finally flees the kingdom distressed. Snow White meets a prince who wishes to speak with the Queen about the trade arrangements with his kingdom, before running to eventual safety and learning the true events that happened to both of her parents and the quest that she and her friends must complete. The classic characters are further defined, and the Magic Mirror develops more giving a clear image of the back story of magic. This novel contains continual fantasy and suspense to see how this tale will unfold with perspectives alternating between Snow and The Queen.
THOUGHTS: Page turning and deeply satisfying, this read shows familiar characters with a different take on a classic fairy tale. This is the sixth book in A Twisted Tale series. Students can write their version of the class tale before beginning the novel and compare all of the renditions. 
Fairy Tale, Adventure          Beth McGuire, Hempfield Area SD
---
Kammer, Gina. Mind Drifter: Enemy Mind. Capstone, 2019. 978-1-496-55898-5. $19.99. 128 p. Grades 3-9
The last day of seventh grade at Emdaria North Middle School is significant as students take their personality skills tests. They quickly learn their student helper role for the year 2310. While Syah was eager to become a student artist, she was surprised to see that her role would be a counselor, also known as Mind Drifters. Syah will do her job in the MindLinkLab where counselors enter the mindscape of other students. Her best friend Joden has the role to assist in the science lab. The new roles seem to cause tension in their friendship and Kreo, Joden's lab partner, is unkind. Syah sees a chance to enter Kreo's mindscape, but it would be against the policies, and she is presented with a conundrum. Regardless of her choices she will have to face consequences, address bullying, concerns of privacy, and explore the realms of friendship.  
THOUGHTS: This is an engaging book. Three other titles are presently in the series: Dream Monster, Wicked Stepsister, and Reject Rebound. If the book is used in a classroom setting, there are questions for discussion in "Talk it Over" and writing exercises with Think and Write" sections. The book also includes a glossary and reference guide which would be helpful to preview with classes before starting the novel. The 4D content includes an interview from the author, Gina Kammer. This adds to the content included in the about the author section of the book, which sets the background for the book. 
Science Fiction, Adventure           Beth McGuire, Hempfield Area SD