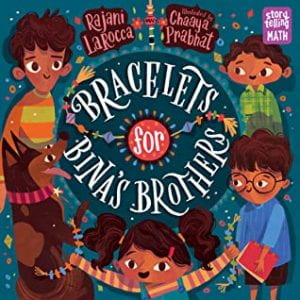 LaRocca, Rajani, and Chaaya Prabhat. Bracelets for Bina's Brothers. Charlesbridge, 2021. 978-1-623-54129-3. unpaged. $15.99. Grades K-2.
The sibling holiday of Raksha Bandhan was coming soon, and Bina wanted to make the traditional bracelets for her brothers by herself this year. First she does some investigating to find out each brother's color preferences. She learns that Vijay likes blue best but green the least; Siddharth loves green but can't stand orange; and Arjun's fav is orange but not blue. As readers will guess, once the process of putting together each personalized bracelet begins, Bina needs to do some problem solving. The patterns that come from her process are fun, allowing readers to play the part of Tara, the faithful family dog, to help Bina when she is stuck. Prabhat creates a colorful animated world to enjoy, and LaRocca adds her cultural note and math connections at the end to help make Bina's story special.
THOUGHTS: The bracelet patterns are not advanced, but serve as a starting point to bigger pattern projects. The holiday of Raksha Bandhan gets a rare spotlight which siblings both familiar and new to the day should appreciate. This is a solid series to celebrate "Math, diversity, and the power of story." Recommended.
Picture Book          Dustin Brackbill, State College Area SD