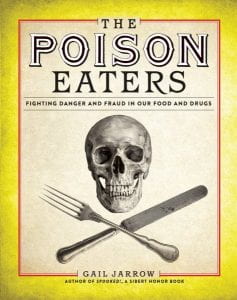 Jarrow, Gail. The Poison Eaters: Fighting Danger and Fraud in Our Food and Drugs. Calkins Creek, 2019. 978-1-629-79438-9. 157 p. $18.99. Grades 5-12 (and up).
When people moved to cities and towns and no longer grew and prepared their own foods, new industries helped supply their needs. The concern for what you put in your mouth has been around for a long time. Reading this book is educational and a bit horrifying. Did you know that before 1900 some canned and commercially prepared foods contained such "preservatives" as borax, copper sulfate, and formaldehyde? And what was in your tasty sausage – meat scraps swept off the factory floor and worse! Then there was the use of cocaine in tooth drops for teething babies (No wonder they slept so well!). The Poison Eaters tracks the "pure food" movement from the 1880's to present day. It follows the career of Harvey Washington Wiley, born in 1844, who passionately campaigned for laws that would regulate how food and, later, medicines are prepared and sold. This was not an easy task with big business and politics blocking the way. Surprising allies including Colliers Weekly and the Ladies' Home Journal as well as women's clubs helped educate the public. Still the pure food and drug law did not pass until 1906, and that law almost immediately needed more stringent standards. It took tragedy to get tighter regulations. The Food and Drug Administration still has controversies in its methods, but at least it has been able to get stiffer regulations for food processing and protect the public from dangerous drugs such as thalidomide. The fight for good food continues.
THOUGHTS: Gail Jarrow grabs the reader's attention. She makes the story readable with her biographical treatment of a Harvey Wiley and others. The book is not just historical but has relevance to today's readers. The author has provided the reader with well researched facts and back matter that can lead to further investigation, including websites and an extensive bibliography.
344.73; Federal Drug Administration; Food law and legislation          Jeannie Bellavance, Retired
---
Armstrong, Kelley. A Royal Guide to Monster Slaying. Puffin, 2019. 978-0-735-26535-6. 268p. $16.99. Grades 5-9.
In the kingdom of Tamarel, twelve-year-old Rowan will be the queen. Her twin brother, Rhydd, will be trained as the Royal Monster Hunter. Rowan wishes that their roles were reversed, but she is the older twin.  When disaster happens and Rhydd is badly hurt and their aunt is killed by a gryphon, the most deadly of monsters, her wish comes true. There are politics involved with this change. The scheming Herward makes a challenge, saying that his children should be the heirs. A compromise is reached, but Rowan must seek training immediately from the famous Wilmot. Her trip to his home is filled with encounters that will keep the readers on the edge of their seats. She and her companions face kidnappers; ambushes; and monsters of all sorts including giant spiders, warakins, manticores, and the gryphon. The descriptions of these encounters are very vivid. These trials test Rowan's abilities and readers will admire her ability to think things through. Rowan knows what it is to be a leader, even at a young age. When Rowan and her companions return with the gryphon, not all is resolved.  This is a good first book in the series, satisfying readers but hinting at more adventure. Rowan's Monsters: A Field Guide at the end of the book is very helpful.
THOUGHTS: Rowan is level headed as is her mother who now is queen. She looks at things scientifically and often has to dispel the superstitions that abound with monsters. Rowan expresses a respect for individuals, both human and monster. Often she revises her plans to take feelings into account. Armstrong has created an interesting fantasy world. I hope as the series continues that the readers will get to know more about its inhabitants, both human and monster. The next book in the series, The Gryphon's Lair is will be published in June 2020.
Fantasy, Adventure, Mythological creatures          Jeannie Bellavance, Retired
---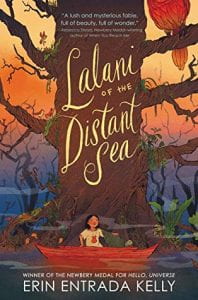 Kelly, Erin Entrada. Lalani of the Distant Sea. Greenwillow Books, 2019. 978-0-062-74727-3. 400 p.  $16.99.  Grades 3-7.
"There are stories of extraordinary children who are chosen from birth to complete great quests . . . . This is no such story.  Sometimes, you are an ordinary child. Sometimes, you choose yourself." So begins Newbery-winning author Erin Entrada Kelly's latest tour de force, Lalani of the Distant Sea, an intricately crafted magical tale inspired by Filipino folklore. The people of Sanlagita, a mythical island cursed by drought, pin their hopes for redemption on the nearby island of Isa. Tragically, every sailor who has attempted the journey, including Lalani's father, has drowned before reaching its shores. The Sanlagitans are sure evil lurks in the waters, but what can they do but keep sending their finest in hopes that someone will eventually prevail? On an island of poverty-stricken people with little power to change their circumstances, Lalani is among the poorest and least powerful. Not only is her father dead, but her mother is dying, and the only possible cure is rumored to be available on Isa. Out of desperation and guilt as much as boldness and bravery, Leilani determines to set sail herself. Most of the book is told from a close third-person perspective. We get not only Lalani's viewpoint, but also that of several important secondary characters. However, some chapters are told in the unusual second-person perspective, allowing readers to put themselves directly in the shoes (or, more aptly, fins, paws, or claws) of various magical creatures.
THOUGHTS:  A gorgeously written fantasy from an #ownvoices author. Lalani is an absolutely delightful heroine, a child who would rather be ordinary but is driven to take extraordinary measures to advocate for herself, her family, and her people. Kelly's use of point of view is brilliant; it adds to the richness and complexity of the text and yet is never confusing for the reader (a difficult trick to pull off). Highly recommended for elementary and middle school libraries.
Fantasy Fiction          Maggie Bokelman, Cumberland SD
---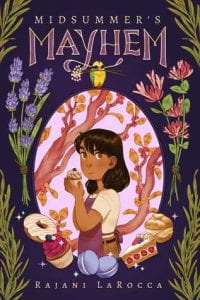 LaRocca, Rajani. Midsummer's Mayhem. Yellow Jacket, 2019. 978-1-499-80888-9 352 p. $16.99  Grades 4-8.
Shakespeare meets the Iron Chef in this madcap midsummer's night mash-up by debut author Rajani LaRocca. 11-year-old Mimi, the daughter of an Indian-American mother and a white father, has three talented older siblings who are often in the spotlight, leaving Mimi—nicknamed "Mimi Mouse"–feeling small and unimportant. When the town's new bakery announces a contest sponsored by a television cooking show celebrity, Mimi, who loves experimenting in the kitchen, decides her chance to shine has arrived. But the bakery's owner is a woman shrouded in mystery, and Mimi soon realizes that some of the confections sold in her shop have an odd impact on the customers who consume them. Mimi's attempt to reverse the enchantments affecting her father, siblings, and their friends, while simultaneously creating a winning recipe, makes for a unique, fast-paced read.   
THOUGHTS: There is a lot going on in this novel. The many threads connecting plot, characters, setting, and theme do occasionally get tangled. But it's also a lot of fun, and older elementary and middle school students with an interest in drama, Indian mythology, or baking will eat this up.   
Fantasy Fiction          Maggie Bokelman, Cumberland Valley SD