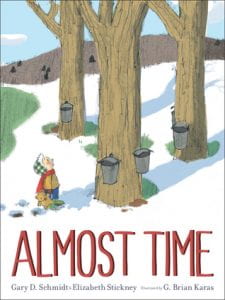 Schmidt, Gary D., and Elizabeth Stickney. Almost Time. Clarion Books, 2020. 978-0-544-78581-6. $19.99. Grades K-2.
Ethan is disappointed when there is no maple syrup for his pancakes. He asks his dad if the sap is running yet. His dad tells him not yet, but when it is warmer. Unfortunately the next day, it is not warmer. When Ethan has his cornbread with no syrup, he asks again, is it time to tap the trees? His dad replies, when the nights are shorter… but the nights are not yet shorter. When Ethan's tooth becomes loose, his dad tells him that when his tooth comes out, it will be time to make maple syrup. Now Ethan has to wait for two things! Is it almost time to make maple syrup!?
THOUGHTS: A picture book all about being patient, with the joy of something sweet thrown in! A delightful picture book.
Picture Book          Rachel Burkhouse, Otto-Eldred SD