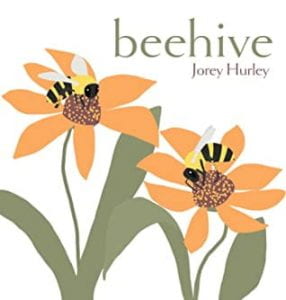 Hurley, Jorey. Beehive. Simon & Schuster Books for Young Readers, 2020. 978-1-481-47003-2. $17.99. Grades PreK-K.
A simple picture book, Beehive explores the world of a honeybee. Using one word on a page, this beautifully illustrated book shares different events in a bee's life. We see the bee FLY, EXPLORE, and POLLINATE. We watch as the bee LAYs, FEEDs, and GROWs. A fun picture book filled with important words that can help explain the life of a honeybee!
THOUGHTS: My favorite part of this book actually appears in the author's notes. The author uses each word from the book and explains the life of the honeybee in further detail. This would be a fantastic piece of information to use for continuing education of the honeybee or for older students who may require more information.
Picture Book          Rachel Burkhouse, Otto-Eldred SD