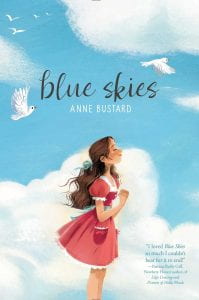 Bustard, Anne. Blue Skies. Simon & Schuster Books for Young Readers. 978-1-534-44606-9. 218 p. $17.99. Grades 3-5.
Glory Bea Bennett is a young girl who lives with her mother and grandparents in a small town in Texas. The year is 1948, and memories of the war still linger. Her friend Ben's father suffers from PTSD, and Glory Bea's own father was listed as "missing in action," which gives her hope that he is still alive. In fact, she is certain that he will return to town on the Merci Train, which carries gifts from France to America for its support in the war.   While the town is preparing for the visit, Glory Bea is trying out her matchmaking skills between her best friend Ruby Jane and Ben, although she is clueless about whom he really likes. Then, a fellow soldier and friend of Glory Bea's father comes to visit, and her mother and the soldier begin dating, which is a relationship she is trying to sabotage. After all, the Merci Train will be bringing her father home soon.
THOUGHTS: This is a beautifully crafted novel which is both poignant and uplifting. Readers will empathize with Glory Bea and learn how one family supports each other in their grief. The author balances this with some well-placed humorous incidents in the story, such as Glory Bea's attempt at giving Ruby Jane a permanent. The characters are well-developed and very likeable, and readers will be eager for more stories about the Bennett family and their friends. This is a first purchase for elementary and middle grade collections.
Historical Fiction                                                          Denise Medwick, Retired, PSLA Member