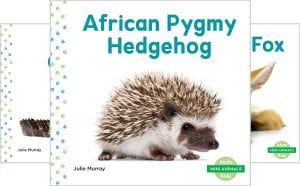 Murray, Julie. Mini Animals. Abdo, 2020. $19.95 ea. $119.70 set of 6. 24 p. Grades PreK-2. 
African Pygmy Hedgehog. 978-1-532-18878-7.
Dwarf Caiman. 978-1-532-18879-4.
Fennec Fox. 978-1-532-18880-0.
Leaf Chameleon. 978-1-532-18882-4.
Little Penguin. 978-1-532-18881-7.
Pygmy Marmoset. 978-1-532-18883-1.
The only thing cuter than a regular animal is a miniature animal, of course! In Mini Animals readers will learn about some of the amazing small creatures that populate the world. Easy text (example text from African Pygmy Hedgehog: "It has small eyes and ears. Its legs are short.") make the series best suited for young readers. Basic facts about each animal, including habitat, physical characteristics, and diet are included in the text. The text is paired with numerous highly appealing photographs. Each title also contains a visual glossary and a comparison page comparing the mini animal to the typical sized animal.
THOUGHTS: This series is sure to be a hit with young animal lovers. The close-up, high quality photos  will allow students to fully appreciate these tiny, amazing animals. Highly recommended. 
590s  Animals          Elizabeth Henry, Lampeter-Strasburg SD