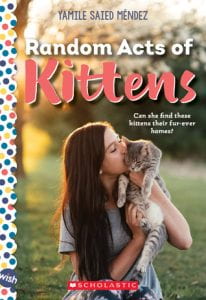 Mendez, Yamile Said. Random Acts of Kittens. Scholastic, 2020. 978-1-338-57492-0. 258 p. $6.99. Grades 4-6. 
Natalia finds a young cat who has just given birth to kittens in her family's storage shed. She knows she can't leave the cats in the freezing cold storage shed, so she brings them in the house when her abuela, mother, and sister are out. After getting them checked out by a vet, Natalia convinces her mom to let her foster the cats until the kittens are old enough to adopt. Natalia has been struggling with several issues in her life–her father has been deployed overseas, she's gotten into some trouble at school and she's had a falling out with one of her best friends. Maybe working with the kittens will be the positive and purposeful experience she needs at this moment in her life. Working with her friend Reuben, she sets up a social media account for the kittens in the hopes that some of her classmates will apply to adopt a kitten and give them a fur-ever home. Natalia soon discovers, however, that serving as a kitten matchmaker is a little more complicated than she first thought.
THOUGHTS: Hand this title to middle grade fans of animal stories. Readers will appreciate the details about fostering and caring for young kittens. Natalia's experiences with friend and school drama will also ring true with many readers.
Realistic Fiction           Elizabeth Henry, Lampeter-Strasburg SD