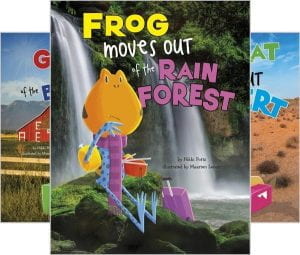 Potts, Nikki. Habitat Hunter. Ill. Maarten Lenoir, Picture Window Books, 2020. 31 p. $132.24 set of 6. $21.99 ea. Grades PreK-2.
Frog Moves out of the Rain Forest. 978-1-977-11423-5. 
Goat Moves out of the Barnyard. 978-1-977-11421-1.
Meerkat Moves out of the Desert. 978-1-977-11419-8.
Owl Moves out of the Forest. 978-1-977-11424-2.
Penguin Moves out of the Antarctic. 978-1-977-11422-8.
Shark Moves out of the Ocean. 978-1-977-11420-4.

"Meerkats, meerkats everywhere!" (1), and Meerkat is not happy about it.  She wants a new home she does not have to share, so she sets out to find her new home. Meerkat tries the mountains, but they're too quiet. She tries a cave, but it's too cold and has too many bats.  Next she tries a playground; it seems like a great home with all of the tunnels, but the slide is too hot, and the monkey bars are too high. After trying a garden, Meerkat decides her own home is the best home and returns to it.
THOUGHTS:  Meerkat Moves out of the Desert is a fun way for young readers to learn about meerkats. Combining both pictures and illustrations, readers learn about various homes for Meerkat while also learning why the new habitat isn't quite right. In the end, Meerkat's realization that her habitat is the best not only solidifies basic understanding of a meerkat, but it also teaches readers to appreciate their home and family and that something different is not always best.  This title, as with the other titles in this series, also includes a page about the highlighted animal (meerkats) and an "Animal Passport." This title is also useful for teaching comparing and contrasting because of the various homes Meerkat considers.
Animals        Erin Bechdel, Beaver Area SD