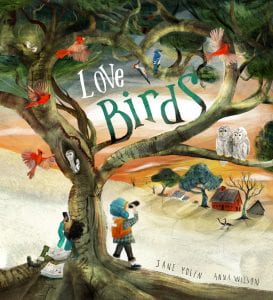 Yolen, Jane. Love Birds. Cameron Kids, 2022. 978-1-951-83640-5. $17.99. 32 p. Grades K-3.
Jane Yolen's newest picture book tells the story of a shy and quiet boy named Jon. Jon and his mother recently have moved to a new town. While his mother makes friends easily and eagerly chats with new neighbors, Jon is quiet. As he walks through his new neighborhood, Jon hears the sounds of children at play, and adults doing yard work. Jon listens to everything, but he loves listening to birds. He can identify dozens of different birds by their calls. Jon especially loves owls. On an evening walk through the woods Jon hears the call of a barred owl. Jon eagerly calls back, moving closer and closer to the owl's song. When Jon discovers the beautiful bird call is made by a girl named Janet, he suddenly isn't shy, and he is no longer quiet. Janet is a kindred spirit, a bird lover, and a listener. Janet and Jon become the best of friends, birding together as their friendship spans over years and turns to love.
THOUGHTS: A gentle affirmation for quiet children with unique interests. Sometimes the best friends are the best listeners. Yolen's end-notes indicate Love Birds is meant to be a companion to her Caldecott Award winning book Owl Moon. Gorgeous illustrations by Anna Wilson depict each bird in great detail. 
Picture Book          Anne McKernan, Council Rock SD