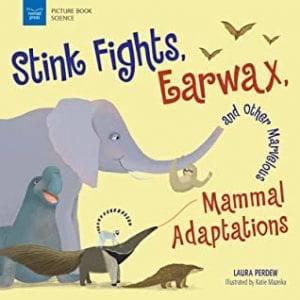 Perdew, Laura. Stink Fights, Earwax, and Other Marvelous Mammal Adaptations. Nomad, 2020. 978-1-61930-960-9. 29 p. $9.95. K-3.
This nonfiction science title describes unique adaptations of various mammals. Whales, for example, have earwax plugs that help them hear better. Elephants use their ears for hearing AND staying cool. Both entertaining and informational, this book presents young readers with facts that will surprise and captivate them. It includes an activity and a glossary for further learning.
THOUGHTS: This would make a great addition to any elementary classroom or library collection. It is an excellent supplemental resource for elementary lessons on evolution and adaptation. This title is actually part of a collection that explores adaptations in other animals, too, including amphibians, fish, birds, and reptiles. Hand this to young scientists and/or animal lovers, and they will be delighted.
599 Mammals          Julie Ritter, PSLA Member