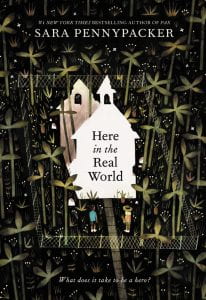 Pennypacker, Sara. Here in the Real World. HarperCollins, 2020. 978-0-062-69895-7. $17.99. 320 p. Grades 3-6.
"Everything was something else before, and will be something else after." Ware is an only child, and he's perfectly happy spending his summer alone with his grandmother, whom he refers to as Big Deal, but when she falls and needs a hip replacement, Ware's parents sign him up for Summer Rec where they hope he can have "meaningful social interactions" with other kids his age. To Ware, this is the worst case scenario, until he meets a girl named Jolene who is planting a garden in a half torn down, abandoned church right next to the rec center. Ware sees the potential in this church, and instead of going to rec, he spends his days with Jolene pretending the church is a castle and that he is a knight, living by their code of chivalry. For the first time in Ware's life, he doesn't feel ashamed about spending time off in his own world, and with the help of Jolene, his uncle, and others he meets throughout the summer, he realizes that it's okay to be himself, and he doesn't want to turn into someone else after all. "He had changed this summer. He was spending more time off in his own world. And it turned out, he didn't feel ashamed about it. Turned out, he really liked it there."
THOUGHTS:  Here in the Real World is perfect for readers who feel like they just don't belong. Your heart will break for Ware and Jolene as they try to navigate through the real world in this moving and touching novel. Middle school can be such a hard time, and hopefully readers will realize, like Ware does, that it's okay to be yourself, even when you feel pressure from parents and classmates to be someone else entirely. This realistic fiction book is about finding not only yourself, but your people, and being able to see them just as they are too.
Fantasy          Emily Hoffman, Conestoga Valley SD