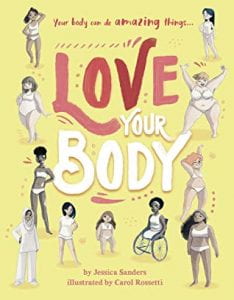 Sanders, Jessica. Love Your Body: Your Body Can do Amazing Things. Frances Lincoln Children's Books. 2020. 978-0-711-25242-4. $17.99. Grades 5-8+.
"Freedom is loving your body with all its "imperfections" and being the perfectly imperfect you!" As stated on the back of the cover, your body is perfectly imperfect and designated for you! What if every young girl thought this way about their body? What if all young girls loved their body? This book shares how all bodies come in different shapes, sizes, and colors and they are ever changing. Self-help tips, strategies to help love your body and build your confidence, and even help to talk to someone when you are feeling down is all found within this book. "My body is strong. My body can do amazing things. My body is my own."
THOUGHTS: A great read for girls struggling with body image and health self-help and care. Although I would recommend for grades 5-8, I believe this book is equally as important for older readers.
155.43 Body Image          Rachel Burkhouse, Otto-Eldred SD