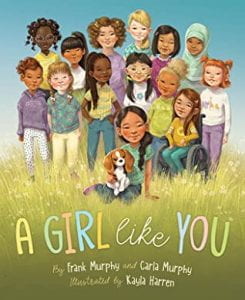 Murphy, Frank. A Girl Like You. Sleeping Bear Press, 2020. $16.99. 32 p. $16.99. 978-1-534-11096-0. Grades K-3.

A Girl Like You is a celebration of all of the things a girl can be: brave, bold, empathetic, radiant,  proud, and more. The story begins with a girl who stands apart from a sea of adults and then moves through all of the ways that she is unique. Mantra-like text such as "radiant girl, stand tall" is supported by diverse portrait style illustrations showing girls in action demonstrating the qualities discussed. The main character shows bravery when standing up for herself and boldness while leading others to speak out. Girls are encouraged to learn, lead and care for others without forgetting to take care of herself. The main protagonist of this story presents as Asian with a lovely dark golden complexion, rosy cheeks, and long straight dark hair past her shoulders which is often worn in a loose braid. The myriad of girls included throughout the book represent nearly every skin, body, and hair type imaginable including permanent and temporary differing abilities. Multiple images of girls with wheelchairs and prosthetic or missing limbs are included throughout. Girls with Vitiligo, Albinism, and freckles appear along with a rainbow of skin tones. Many girls wear khimar, scarfs, or bandannas. A few are bald or have very short hair including one that is presumably due to medical treatment. Children appear to be elementary age. Some scenes include boys working and playing alongside, but the focus remains on encouraging young girls.
THOUGHTS: As inclusive as a children's book can possibly be, this book is a good one to have on hand when discussing differences with children or introducing women's history celebrations to younger readers.
Picture Book          Jackie Fulton, Mt. Lebanon SD