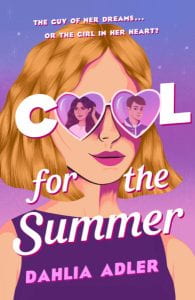 Adler, Dahlia. Cool for the Summer. Wednesday Books, 2021. 978-1-250-76582-6. $18.99. 255 p. Gr. 9 and up.
Larissa Bogdan returns to her New York suburb school on the first day of her senior year after a whirlwind summer in the Outer Banks, and before she even heads to her first class, her obsessive crush for years, popular football player who never knew she existed, Chase Harding, saunters over to her locker and suddenly starts talking to her. He claims she looks different, and so does her best friend Shannon. She's got a new haircut and a tan, sure, but her fresh glow is more likely coming from within. Afterall, she just had an unexpectedly amazing summer-long fling with Jasmine Killary, her mom's boss's daughter who she shared a house with over the summer. But now out of nowhere, Chase Harding seems interested in her, and before she can even process it, who walks into her school but Jasmine. They haven't spoken since the last night they spent together in the Outer Banks. Larissa can't figure out why she's suddenly going to her school, or why she's pretending not to know her, and there's no time to dwell on it while Chase Harding is flirting with her and asking her out. Larissa SHOULD be on Cloud Nine dating Chase, but everywhere she goes, there's Jasmine, reminding her of last summer. How can she enjoy finally dating Chase, the boy of her dreams since middle school, when she can't stop thinking about Jasmine?
THOUGHTS: Told in an alternating timeline from the present to the previous summer, readers follow Larissa along in the present while also seeing her summer with Jasmine unfold in the past tense. This is a laugh-out-loud yet also emotional story of love and self-discovery. A good addition for YA LGBTQ collections as Larissa thinks she is bisexual, but she's still figuring herself out and doesn't necessarily ascribe to a label by the story's end, which is an important thing for young readers to see.
Realistic Fiction          Sarah Strouse, Nazareth Area SD