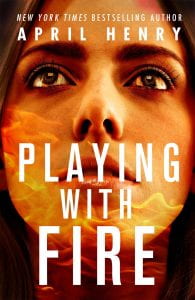 Henry, April. Playing with Fire. Henry Holt & Co., 2021. 978-1-250-23406-3. 225 p. $17.99. Grades 5-8.
A gorgeous day in Portland. An idyllic waterfall. A boy who is interested in you – what could possibly go wrong? Natalia and coworker Wyatt are just wrapping up an afternoon hike at Basin Falls when a loud pop shatters the peace. Shortly after a man goes running by, and the smell of smoke drifts in the air. In the blink of an eye Natalia's worst fear is coming true, again. A fire is raging in the forest and now Natalia, Wyatt, and a dozen other people are trapped. Using Wyatt's map and skills and Natalia's medical training, the pair help navigate the motley crew through the forest as the fire chases them. As the night progresses, Natalia will face her fears while helping a burn victim, someone having a panic attack, and someone with a dislocated knee. But when a bridge prevents the troop from escape, will Natalia have the courage to overcome her demons and make up for past mistakes?
THOUGHTS: A fast paced read, Henry does not disappoint with this novel! The characters are well developed and the story follows a clear timeline. Readers get a glimpse into Natalia's past and how her fear of fire plays such a critical role in helping others. Students who enjoy adventure stories like Hatchet will love Playing with Fire!
Adventure Fiction          Jillian Gasper, Northwestern Lehigh SD
Grades 6-12.
Seventeen year old Natalia lives in Portland near beautiful hiking trails, but she's never been hiking. She was sick – sedated in a hospital – the week of Outdoor School, where most fifth graders stay in cabins in the woods. Her Dairy Barn co-worker Wyatt is determined to right this wrong, and he takes Natalia on a hike up to see a beautiful waterfall overlook. At 6:24 pm they're on the way down when they hear a loud pop, probably someone firing a rifle in the Gorge, Wyatt explains. Natalia notices the smell of smoke which Wyatt connects to the local Cougar Creek fire as he explains the dangers of the tinder dry woods. Thirty minutes later they approach the bottom of the trail where to their horror the very woods they need to pass through are engulfed in flames. Natalia has avoided even the smallest birthday candle for the past six years. With no cell service and few other options, Natalia and Wyatt begin to hike back up the trail to find a new exit. Warning people to return to the falls on their way back up, Natalia is reminded of her little brother. When a helicopter drops a rock with a note that says, "Fire spreading….Extreme danger." the group needs to come together to survive. With a variety of personalities and skills and few supplies, will they make it to Sky Bridge before they're rescued, or will the fire reach them first?
THOUGHTS: Taking a slightly different approach to her typical "missing girl" stories, Henry strikes gold with this fast-paced thriller. A must purchase for middle and high school libraries, especially where Henry books are popular, adventure/thriller fans will zip through and request another.
Adventure Fiction          Maryalice Bond, South Middleton SD