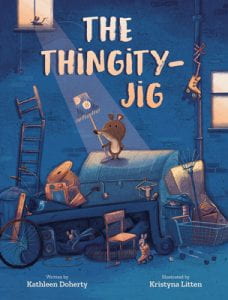 Doherty, Kathleen. The Thingity-Jig. Peachtree Publishing Company, 2021. 978-1-7972-0282-2 p. 32. $17.95. Grades K-3. 
What happens when you make a curious discovery? A discovery that is springy, bouncy, and oh-so joyous to sit and jump on! It is so special that you run home to tell all of your friends that you discovered a Thingity-Thing! However, the discovery is so cumbersome to move that Bear, the main character in this story, needs help from his friends to get the exquisite piece home. So when no one in Bear's life wants to be bothered, Bear takes matters into his own hands (or paws) and builds a Rolly-Rumpity to wheel the Thingity-Jig home. But of course, there are bumps in the road, and Bear needs to invent the Lifty-Uppity to overcome the next obstacle. Author Kathleen Doherty creates an adorable, curious, and inventive character in her picture book The Thingity-Jig and cleverly combines wordplay and STEAM into her storyline. A delightful read-aloud for young children, The Thingity-Jig is both quirky and hilarious and so fun to read!
THOUGHTS: Author Katleen Doherty is a reading specialist and former classroom teacher for over 30 years. The Illustrator, Kristyna Litten, studied art at the Edinburgh College of Art and has illustrated several children's books. Her style, heavily influenced by animation and illustrative art, is the perfect vibe for this charming picture book. An ideal read-aloud for STEAM or growth mindset!
Picture Book          Marie Mengel, Reading SD