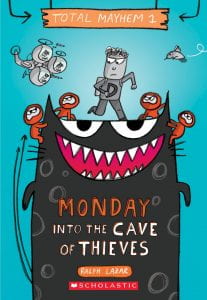 Lazar, Ralph. Total Mayhem #1 Monday – Into the Cave of Thieves. Scholastic Press, 2021. 978-1-338-77037-7. 208 p. $6.99. Grades 2-5
In Dash Candoo's world, boring days do not happen. Before he even eats his breakfast on Monday he is attacked by "combat-ready scallywags and the two tailed Devil Cat." When Dash gets to school he has other hilarious situations to deal with, which are shown off in funny illustrations. At the back of the book, there is an almanac which gives you more information about all the things that Dash and his friend use throughout the book.
THOUGHTS: This book is great for fans of Captain Underpants and will definitely be a favorite in any elementary library.
Humorous Fiction            Mary Hyson, Lehigh Valley Regional Charter Academy