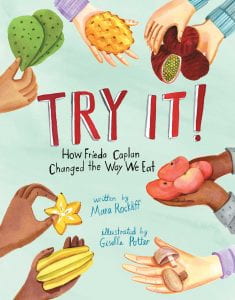 Rockliff, Mara. Try It! How Frieda Caplan Changed the Way We Eat. Illustrated by Giselle Potter. Beach Lane Books, 2021. Unpaged. 978-1-534-46007-2. $17.99. Grades K-2.
In 1956, Frieda Caplan went to work at the Seventh Street Produce Market in Los Angeles. The market was full of potatoes, tomatoes, apples, and bananas. Frieda's interest in new fruits and vegetables led her to sell mushrooms; her promotion led to her being called 'The Mushroom Queen." In 1962 she opened her own business and continued to search for, sell, and promote (with tastings, nutrition facts, and recipes) new fruits and vegetables. Anything new was taken to Frieda: crispy jimaca, juicy blood oranges, sweet Asian pears, crunchy sugar snap peas, seedless watermelon, fuzzy kiwifruit, and so many more. Not everything was a success (durian, for example), but Frieda was always willing to give it a try. Puns and alliteration help the text: "mounds of mangosteen," "quantities of quince," "cooks peppered her with questions," and "everybody was all ears (especially about the baby corn!)." Frieda's two adult daughters joined her, then two granddaughters. Frieda changed the way produce is sold and changed the way we eat. The endnotes explain that when she began, the market had about 65 fruits and vegetables; now, we have seven to eight hundred, many thanks to Frieda.
THOUGHTS: This is a positive and interesting look at a businesswoman who made a lasting difference. Readers will want to know more about the foods new to them, and may even be willing to 'try it!' like Frieda, especially with a class fruit and vegetable day. Highly recommended.
338.7 Business & Marketing          Melissa Scott, Shenango Area SD