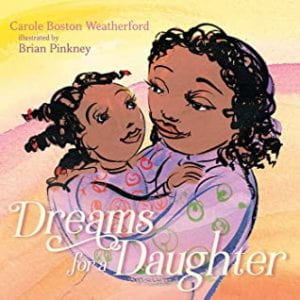 Weatherford, Carole Boston. Dreams for a Daughter. Illustrated by Brian Pinkney. Atheneum Books for Young Readers, 2021.  Unpaged. 978-1-5344-5198-8. $17.99.  Grades PreK-2.
In this lovely picture book, a Black mother voices her hopes and dreams for her newborn daughter. Speaking in first person, the unnamed narrator thinks about her child's future and tells her how she will care for her in every stage of her life. As a parent, she will not only support her with physical challenges, like taking her first steps or riding a bicycle, but will also provide guidance on dealing with adversity, speaking up for herself, and choosing her own future. On the final pages, the mother reminds her daughter that she will always watch out for her, even from afar when she grows into an adult, "trusting God to keep Her eyes on you." Weatherford has created a very moving tale of a mother's love for her child. Brian Pinkney's expressionist illustrations help convey the emotions this woman feels as she embraces her infant, anticipating her future and promising to "show her all that she can." Pinkney draws a swirl around the pair on each bold and colorful drawing, which perfectly depicts the mother's all-encompassing love.
THOUGHTS: This touching story is perfect for mothers with young daughters and would be a wonderful gift for a new mother. It could also be read aloud to a group of young children to encourage them to face challenges and go forward confidently into their futures.
Picture Book          Denise Medwick, Retired, PSLA Member