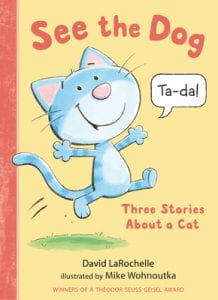 LaRochelle, David. See the Dog: Three Stories About a Cat. Candlewick Press, 2021. 978-1-536-21629-5. Unpaged. $8.99. Grades K-2.
This companion to 2021 Theodor Geisel Award winner See the Cat: Three Stories About a Dog is a must for every elementary school library. Beginning readers will love both titles by David LaRochelle. See the Dog brings back Dog and Cat, two animals unafraid to interact with readers and foil the author's storylines. The first story opens with "See the dog," and Cat saying, "Hello! The dog is sick today. He asked me to take his place!" Three stories follow a similar pattern and readers will giggle at every twist and turn.
THOUGHTS: Another excellent beginning reader from the team of LaRochelle and Wohnoutka. 
Picture Book          Lindsey Long, Lower Dauphin SD