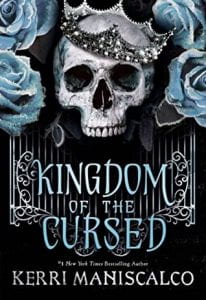 Maniscalco, Kerri. Kingdom of the Cursed. Hodder & Stoughton, 2021. 978-0-316-42847-7. $18.99. Grades 12+.
Kingdom of the Cursed picks up with Emilia selling her soul in order to figure out what happened to her sister, Vittoria. Some of the decisions that Emilia made have helped to unlock some secrets and cause her to ask more questions. As this book progresses, the reader sees Emilia trying to figure out if she should trust Wrath as she learns that she can't trust anyone. Kingdom of the Cursed delves more into the world building of this fantasy world, as well as more character development of Emilia. 
THOUGHTS: Overall, this is a great addition to this series that continues to build on the characters and plot that was laid out in the first book. There are some scenes that are a little more on the explicit side, hence the higher grade level rating. However, this would be a great recommendation for fans of the first book, or fans of the author's other work. 
Fantasy           Mary McEndree, Lehigh Valley Regional Charter Academy
Grades 10-12+.
After making a deal with the devil, Emilia travels to the seven circles in the Kingdom of the Wicked with Prince Wrath. As the betrothed of Prince Pride, her plan is to infiltrate his court and make it one step closer to avenging the death of her twin sister Vittoria. However, the journey is not easy, and before she meets Pride, she becomes a resident of House Wrath. From Wrath, she learns just how dangerous and deceptive his brothers can be, and he advises her to trust no one. When Emilia slowly begins to unravel the secrets of the past, she realizes that she'll need the help of magical objects to discover who she really is and if she can really trust Wrath.
THOUGHTS: Kingdom of the Cursed is listed as a young adult title and can be found in the YA section of book stores; however, the romantic scenes between Emilia and Wrath are very descriptive, and I'd go as far to classify this one as new adult for that reason alone. Although it's heavy on romance that doesn't always advance the plot, I still enjoyed the book and cannot wait to see how it all ends. I'll be impatiently waiting for the next installment. 
Fantasy          Emily Hoffman, Conestoga Valley SD