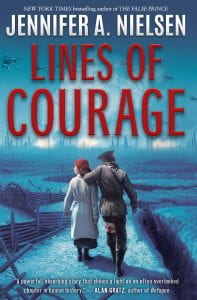 Nielsen, Jennifer A. Lines of Courage. Scholastic Press, 2022. 978-1-338-62093-1. 388 p. $17.99. Grades 4-8.
This historical fiction novel takes place during World War I. The story is told through the voices of five children who are experiencing the war from different perspectives. The story starts with the voice of young Felix in Austia-Hungary as he witnesses the assassination of the Archduke which triggers the start of the war. The book is divided into five sections and is told in chronological order through the the voices of the children. Their stories become intertwined as they try to make sense of this war that they have been forced to grow in. The novel comes to a conclusion with Felix as the final storyteller.
THOUGHTS: This book is for students who are drawn to historical fiction. The characters are well-written, and the action is fast-paced. It is good to see a book focused on World War I which does not get as much attention as other historical time periods.
Historical Fiction          Victoria Dziewulski, Plum Borough SD